Subarts hosts "501 B.C.: A Space Odyssey"
The word "Jupiter" can summon two images: a stormy, swirling planet, distinguished by a bright red spot or the king of the Roman gods, remembered for his lightning bolt and adulterous ways. Last Friday in the Spoelhof Center, the Visual Arts Guild had no need to choose a favorite definition. The fall student showcase, "501 B.C.: A Space Odyssey," juxtaposed the classical with the futuristic — then bound them together with the art of the present.
"We did a play on the Greek 'Odyssey' and '2001: A Space Odyssey' and enjoyed the humor that came out of it," said junior and Visual Arts Guild vice president Bekah Inman.  
In one room, accompanied by John Williams' iconic "Star Wars" score, ceramics pieces rested atop a series of mock-Roman columns.
"[At Subarts] you can see ceramics in real life, which is nice," said junior Molly DeDona. "Seeing it in person is so important."
Behind these clay hands, droplets and sculptures, the walls presented another collection: paintings, tapestries and mixed-media creations. The pieces continued down the hallways, dotting the space with collages, charcoal sketches and master copies of Monet.
"One of the things I like about Subarts is that it's not juried," said junior Brenna Mahn. "It represents the art department [as a whole] a lot better than something like 'Dialogue,' which is a lot more selective."
"You get a lot more levels of art," agreed DeDona.
Across the hall, glow-in-the-dark stars traced constellations above a table topped with a mock-classical bust and Pita House catering. Attendees ladled cranberry punch out of a crockpot, sipping the drink while meandering through the displays.
Instead, many paused in the room, circling around the stage to listen to the music provided by sophomore Daniel Hickey, junior Ben Cooper and junior Matt Sweda. Each performed their own unique mix of of covers and originals, and a projector provided an unusual backdrop: a marathon of muted "Star Trek" episodes.
But, according to Inman, the real surprise of the evening was the student body's increased interest in the annual Feeding America ceramics sale.
"Every year, we have a Feeding America sale, but this year it was the main thing that brought people down," she said. "In doing so, we raised about $500 to give to [the] Feeding America food bank."
The Visual Arts Guild invites students to submit their work in 2017 for next semester's showcase. The event's theme will be announced early next spring.
About the Writer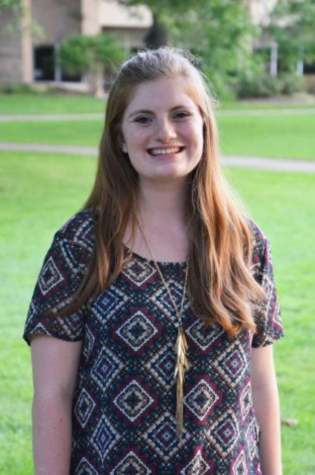 Courtney Zonnefeld, Campus News Editor
Courtney Zonnefeld is a co-campus editor for the 2016 year, having previously written for that same section. She is a junior writing major from Des Moines,...