Unhappy Hour brings spooks and stories
"Double, double toil and trouble, fire burn, and cauldron bubble." With these famous words from William Shakespeare's "Macbeth," the English department opened its annual Unhappy Hour, a night of macabre readings from "Edgar Allan Poe and writers of his ilk."
With the help of LED candelabras, pumpkins, cobwebs, and a flock of fake ravens, organizers transformed the CFAC's East Lobby into the perfect setting for these stories. Guests arrived in costumes, quickly populating the space with a festive cast of characters. Some simply added Halloween touches to their usual garb by wearing all-black or a literary-themed scarf. But many, including the evening's hosts, professors Chad Engbers and Jennifer Williams, seized the opportunity to wear something a little more elaborate. Students and staff found inspiration from every kind of source, and all sorts of figures, from superheroes to steampunk royalty, soon gathered in the CFAC East Lobby.
Seniors Abby Hocking and Katie Van Kooten dressed up as Twenty One Pilots, mimicking the chart-topping duo's signature looks with red-and-black paint and concert tees. Others, like senior Ericka Buitenhuis and her group of "graveyard girls," coordinated their attire with their reading selection. After choosing a chapter from Neil Gaiman's "The Graveyard Book," they "wrapp[ed themselves] in cobwebs and fake spiders" to imitate the novel's ghostly characters.
"[It's] probably the only time I've ever been ok with having spiders in my hair!" said Buitenhuis.
After stacking their plates with candy corn, cookies, popcorn, and other treats, the costumed attendees settled into their seats, ready for a few hours of spooky poetry and prose. Though all the readings contained some touch of the spooky or supernatural, their tones varied from harrowing to hilarious to everything in between.
Perhaps the night's most chilling piece was read by professor Williams: a short story from Neil Gaiman's collection "Fragile Things." Junior Chloe Selles called the tale, a macabre narrative "about a flesh-eating grandma," one of the night's "highlights." And no literary night of horrors would be complete without Edgar Allan Poe: professor Engbers, noting the shame of hosting Unhappy Hour without including something from its "patron saint," read the writer's best-known work, "The Raven."
On the lighter side, junior Bastian Bouman read Bill Watterson's "A Nauseous Nocturne," which details the confrontation between a little boy, his teddy bear, and the monster under the bed. Sam Koster's selection from the podcast "Welcome to Night Vale" was also a favorite.
"It was a unique take for Unhappy Hour," Junior Katherine Post said. "It was haunting and weird and kind of mildly disturbing — but also very witty and funny."
Sophomore Calvin Yurko concluded Unhappy Hour with an atypical addition to the lineup: a stand-up seminar on how to survive a horror movie. Attendees laughed at tips like "don't look into a mirror at night" and "never, ever enter a graveyard on Halloween."
Though the CFAC's East Lobby has now shed its spooky attire, it will don a new kind of festive apparel during the English and music departments' Christmas tree lighting in December.
About the Writer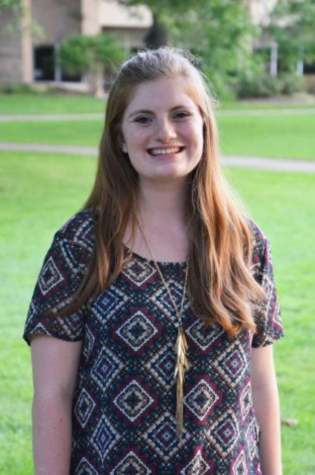 Courtney Zonnefeld, Campus News Editor
Courtney Zonnefeld is a co-campus editor for the 2016 year, having previously written for that same section. She is a junior writing major from Des Moines,...