Houdini's Invisible Bald Aardvarks canoe to victory
No shipbuilder in their right mind would ever construct a canoe out of cardboard. And no professional rower would ever agree to travel in such a vessel. But this weekend at the Seminary Pond, seven groups of Calvin students took on that challenge.
For the Calvin chapter of the American Society of Civil Engineers (ASCE), this is no new undertaking. According to current president Micah Doorn, the organization started the tradition in the early '90s. After a brief hiatus, the organization has now hosted over a decade's worth of  Cardboard Canoe Races. 2016 brought together a new group of hopefuls, eager to join the long list of cardboard canoe champions.
Only three materials could be used to construct these pond-crossing ships: garbage bags, duct tape, and (of course) cardboard. Races took place individually, boat-by-boat, with each group's time recorded by an ASCE member on the pond's center island. Sophomore Heidi Ledford, ASCE's public relations leader, acted as emcee for the event.
The race's first team, who had dubbed themselves "The Horns of Consecration," opened the competition with an impressive time of 2:49. Their successors, "Team Abe," hoped to better that record, but their canoe broke apart only a few seconds after its rowers had climbed inside.
Junior Rose Kim, one-half of "Team Abe," still enjoyed the experience.
"It was fun," she said. "Many of my non-engineer friends who came to cheer us on — more like see how long we [would] last on the water — want to participate next year."
The efforts of the third team, "We Canoe, Can You Canoe?," fared far better.  They crewed a full Viking battleship, sporting horned helmets and braided hair as they established a new time to beat — 1: 51.
The rowers of "Mil and Mal,"  first-years Sarah Malarski and Sarah Milam, had wrapped both their vessel and their oars in garbage bags. They ended with a time of 2:15, behind "We Canoe, Can You Canoe?" but ahead of "The Horns of Consecration."
The "S.S. Serpent" displayed a design to match its name, with a green dragon head on its front and a spiked dragon tail on its back. But those features did not stay upright for long: the boat capsized almost immediately, disqualifying itself from the speed category in the process.
The "La Gordita," crewed by the "Sahak Attack" of senior Micah Bush and sophomore Juan-Carlos Miranda, did not suffer that same fate. Their large boat, formed by a pair of diamond shapes, finished with a time of 4:41.
"Houdini's Invisible Bald Aardvarks" was the race's seventh and final canoe. Sophomores Hannah Larsen and Sam Olson claimed first place in the speed category last year, and they did not plan to give up the title in 2016. According to Larsen, the team even donned their "freshmen orientation shirts from last year as good luck for this year."   
After Ledford's countdown, their boat was off to a quick start, sending a cheer through the cluster of students, staff and Family Weekend visitors gathered on the pond bank.
"We tried to keep a steady rhythm throughout the race, and all we were focused on was trying to finish as quickly as possible without sinking!" Larsen said.
Her teammate agreed:
"I think our main strategy was to not sink," Olsen said.
Their oars' steady splashes ended with Ledford's voice, calling out their final time of 1:21 — only fourteen seconds behind the all-time record of 1:07.  "Houdini's Invisible Bald Aardvarks" had beaten their nearest competitor by thirty seconds. They easily retained the title of Calvin's Fastest Cardboard Canoe and soon received their $100 cash prize.
"It feels really great to have won two years in a row," Larsen reflected.  "A lot of people were surprised that we won again."  
But "Houdini's Invisible Bald Aardvarks" were not the afternoon's only champion. Nor was it the day's only repeating champion: "We Canoe, Can You Canoe?," a team of five, held onto their 2015 rank of Most People in a Canoe and earned their own $100 cash prize. And, though the green-tailed "S.S. Serpent" had already met its watery grave, the judges could still award its crew, seniors Elizabeth Embertson and Jiayu Tian, Best Design and a $75 cash prize.
But there was one more victory to decide before the afternoon concluded. After announcing the trio of winners, Ledford invited all competitors to battle it out in the center of the seminary pond. Best Design, Fastest Finish, Most Durable — none of those titles  mattered anymore. After five minutes of splashing, most canoes resembled little more than wreckage.
ASCE encourages those who wish to practice their construction skills before next fall — but with fewer flimsy and more waterproof materials — to join the organization for their Habitat for Humanity volunteering trip in the spring.
About the Contributor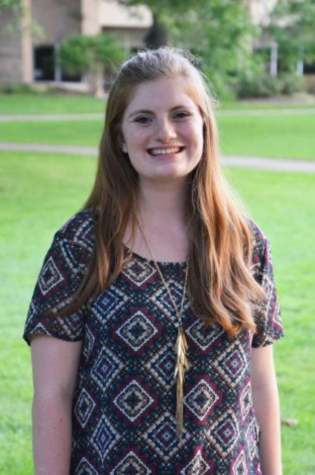 Courtney Zonnefeld, Campus News Editor
Courtney Zonnefeld is a co-campus editor for the 2016 year, having previously written for that same section. She is a junior writing major from Des Moines,...