No. 1 women's volleyball undefeated at 22-0
After the Midwest Invitational this past weekend and their game with Adrian on Tuesday, Calvin College's volleyball team stands undefeated at 22-0, making them the top team in their league.
The Midwest Invitational lasted from Friday to Saturday, with Calvin playing two teams each day. On Friday, they played Clarkson first, beating the team with scores of 25-11, 25-22 and 25-14, ending the game 3-0. Sophomore Anna Kamp had a game-high 14 kills, and the team held Clarkson to a negative hitting percentage. That was the third time they managed that with an opponent this year.
Later that day, they played Elmhurst with scores of 25-17, 25-22 and 25-15, beating the team 3-0.  Junior Tessa Van Laare had a game-high 11 kills and Sophomore Keilahna Castillo had a game-high 13 digs. Senior Laura Danhoff reached a season-high 5 blocks, and also had 10 kills of her own.
Also on Friday, Elmhurst beat Ohio Wesleyan 3-2. Hope defeated Wheaton and Heidelberg at 3-0 each, but Heidelberg came out on top in their match against Wheaton, 3-0. Ohio Wesleyan recovered and beat Clarkson in the final game of the night with a score of 3-2.
On Saturday, Calvin first played Wheaton, winning 3-0 with scores of 25-13, 25-17 and 25-21. Castillo beat her Friday dig score with a season-high 19 digs, and first years Sarah DeVries and Ally Fea managed a career-high 5 blocks apiece.
In their second game, against Ohio Wesleyan, Calvin reached scores of 25-11, 17-25, 25-21 and 25-17. This gave them a game score of 3-1, making Ohio Wesleyan the only team to win a set against Calvin during the Invitational. Kamp had a game-high 14 kills, while Junior Jenna Lodewyk finished with a career-high 10 kills and 37 assists.
Elmhurst beat Hope 3-1, but found themselves narrowly defeated by Heidelberg 3-2. Heidelberg continued on to defeat Clarkson 3-1, who was also defeated by Hope at a score of 3-2. Wheaton defeated Ohio Wesleyan with a close score of 3-2.
Calvin was the only team to emerge from the Invitational undefeated. Anna Kamp was named to the Midwest Invitational All-Tournament Team, with the third best hitting percentage in the tournament at .328 and a total of 50 kills, averaging 3.85 per set. Lodewyk had the highest hitting percentage in the tournament at .432, and had the second-most assists, averaging at 10.69 per set. Junior Kristin Vyletel had a tournament-high of nine aces.
On Tuesday, Calvin went on to sweep Adrian 3-0 with scores of 25-21, 25-18 and 25-16. This left their score at a perfect 22-0. Castillo continued her streak with a game-high 13 digs, and Calvin held their opponent to a negative hitting score for the fourth time this season.
This Saturday, the Knights play their last regular-season road match at Kalamazoo.
About the Contributor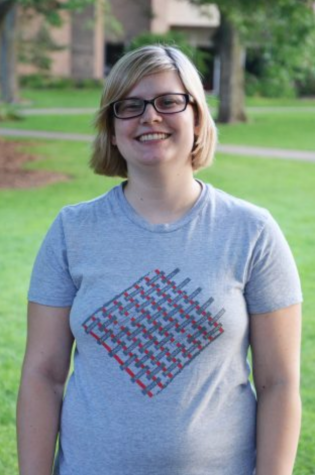 Kelsey Powers, Opinion and Editorial Editor
Kelsey Powers is one of the opinion and editorial editors for the 2016–17 year, after serving the same position last year. She's a senior from Kalamazoo,...