Notes at Noon showcases musical collaboration
Hang on for a minute...we're trying to find some more stories you might like.
This Tuesday, the second Notes at Noon concert of the year featured Calvin staff accompanist Linda Hoisington in an all-Dvorak program.
Hoisington is a graduate of Wheaton College and the University of Wisconsin (Madison), and she has held her current position at Calvin since 2000. She is the coordinator of accompanists for the music department, regularly accompanying the string and voice studios in performances herself, as well as teaching piano lessons.
Notes at Noon concerts are typically 45-minute programs with a more informal atmosphere than typical classical concerts. This is the third year the music department has sponsored the Notes at Noon series, and the series allows for a wide range of performances without demanding as much from a performer or much of an audience member's time.
"It [also] allows for the performers to be a little more casual with making comments [about the music] from the stage," Hoisington said.
The program included collaborations with pianist Hyesook Kim, soprano Lisa Walhout and violinist David Reimer, all of whom teach in the music department. Hoisington was especially excited about playing Dvorak's "Slavonic Dances" for four-hand piano with Kim:
"Two solo pianists don't get to do that very often, so that was one of the highlights of this program."
The "Slavonic Dances" were immensely popular and produced many Dvorak fans when the first book was published in 1878. They were later arranged for orchestra and have remained concert hall staples in that form, but, as Hoisington reminded her audience, "Dvorak first wrote them for the piano!"
Also on the program were Dvorak's "Gypsy Songs," originally written for a tenor but performed here by Walhout. These seven short songs in Dvorak's usual folk-influenced style were based on Czech poems, though the earliest edition used German translations. Dvorak, himself a Czech speaker, received criticism for this and later republished the songs in both Czech and English. Hoisington said from the stage Tuesday that she was "delighted" that Walhout wanted to sing the Czech version.
Two more Notes at Noon concerts are scheduled for the next two Tuesdays: Oct. 11 and 18. The first will feature Calvin orchestra conductor John Varineau and his wife Gwen, and for the second, the Early Music Consort of Grand Rapids will perform. All Notes at Noon concerts are free and include a cookie and punch reception in the CFAC west lobby afterward.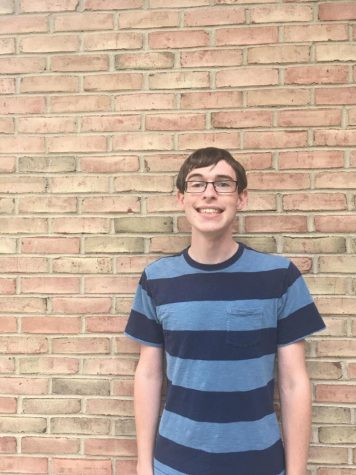 Josh Parks, Editor-in-Chief
Josh is the editor-in-chief of Chimes for 2017-2018. He's a senior from Holland, Mich., studying English literature and violin performance, and this...