Take care of yourself
"What do you plan on doing after college?"
Everyone has heard some variation of that question at one point or another. In my first year, I couldn't give an answer. Sophomore and junior years, I could answer that question proudly: "I want to go into book publishing and be an editor!"
Now, I nearly sweat bullets every time someone asks me that.
I'm a senior this year, and to say it's mildly terrifying is an understatement. Given this is my last semester as a full-time student, it gives my current classes a much more terrifying weight. If I mess up on one of these, I don't have enough time to re-do it. This is my last-ditch chance to get my GPA up, to finish off school with a bang and make sure that next semester, when I'm only taking one class, I have a job that will propel me forward in my field.
Even though I'm only taking 13 credits (thank goodness), there's still so much to do to stay on top of this semester so I'm not left floundering in the next one.
So, to every senior out there who may be in the same, 'Oh God, I have to figure out what to do with my life' fight-or-flight mode: you've got this. Don't be afraid to take a mental health day if you need it. Get enough sleep. Drink enough water. Eat enough food.
In this time where it seems all we need to do is focus on grades, focus on our work and focus on what's next, we need to remember to take time to ourselves. LOFT, church and chapel are all places of healing where we can take as little as 20 minutes to step back from the hectic schedule of our lives and listen to God's word; where we can simply breathe for a moment. Maybe a quick coffee with friends can give you a boost, or arranging your schedule for that one precious day of sleeping in each week.
Please, remember to take time for yourself. It's something I've struggled with my past three years at Calvin, and something I'm dedicated to changing about myself this year. I need to get through my classes, to make sure everything is prepped for next semester and life afterwards, to figure out what I'm going to do post-school … but I also need to make sure that my health, both mentally and physically, isn't declining because of it.
Whether you're a senior who's climbing the same mountain I am and just as terrified, a first-year student just stepping into this crazy college life or a sophomore or junior who still have a bit to go: Take care of yourself.
If I could tell my first-year self one thing, if I could do one thing differently, it would be that: Take care of myself.
About the Writer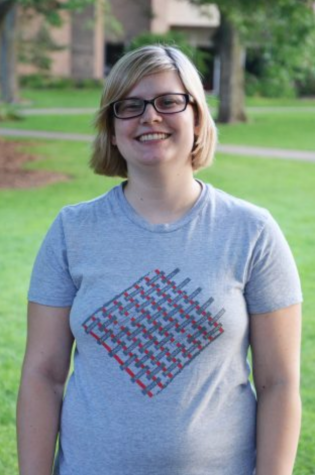 Kelsey Powers, Opinion and Editorial Editor
Kelsey Powers is one of the opinion and editorial editors for the 2016–17 year, after serving the same position last year. She's a senior from Kalamazoo,...