Editorial: Fail Beautifully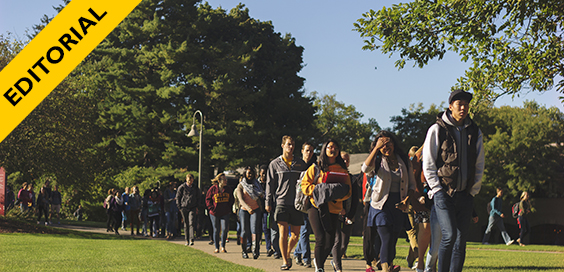 Technically, Chimes is a student organization. To put it simply, that means we are run by students, for students. We have advisors, committees and funding that keep us running and operating above board. But contrary to popular belief, there is no professor or staff member running the show every week: it's just us, a rag-tag group of students with only our ability to adapt and the shoulders of our predecessors to stand on. And with whatever skills we can muster, we do our best each year to keep producing quality content for our readers.
Butoperating off of just our own skills and experience does have its pitfalls. Sometimes we make mistakes, we do something different or we print something that pushes a boundary, and when we do that people have a tendency to take up arms — sometimes against us and sometimes against the college for "letting it happen." We greatly value that level of response because it means our audience respects us enough to care about what we do. But, having been on the inside for quite some time now, I'd like to offer my own perspective.
Though we have been in publication for over 100 years, at the end of the day, producing content isn't necessarily our main goal. I believe the purpose of a student newspaper differs from that of other newspapers, in the sense that our primary purpose should be to educate students.
Everyone who comes through our office should come out of it with a skill, perspective or experience they didn't have before. At Chimes we encourage anyone who's interested to get involved because we want students to be able to develop their skills outside of the classroom.
One of my responsibilities as editor-in-chief is to make sure every editor, writer and photographer can gain something from their experience here. However, the learning process is messy; it's not expected that you'll get it right the first time or the second time or the 15th. And in order to be able to learn, you must be able to take risks. You have to be willing to experiment. If you're too afraid to make a mistake, you won't learn much more than you already know.
College happens to be a wonderful learning environment (who knew?) because it is relatively low risk. The consequences of mistakes here are typically much lighter than they are in the working world, partially because everybody expects you to be a work in progress.
That's why I believe that both students and student newspapers should be expected, nay, encouraged to make mistakes. We are not the official voice of Calvin College: we are the official voice of Calvin's blooming, inquisitive, stumbling and developing students who are throwing things at the wall to see if they stick. We're not here to make a profit or be the number one news source in Grand Rapids; we're here, primarily, to learn.
And learn we have. This issue marks the close of one of the most educational experiences of my life thus far. I have learned an incredible amount about the world and myself in the last year that I could not have acquired anywhere else. I am leaving my position a remarkably changed woman and a remarkably blessed one.
So to our faithful readers, I would like to sincerely thank you for your comments, critiques, praise and criticisms. I would also prompt you to remember from time to time that what you're holding in your hands has been put together by students just like you, or perhaps just like you once were, who have risked a lot to get where they are and to bring you the news and commentary you so greatly enjoy.
To my sensational, talented and supportive staff, I thank you from the bottom of my heart. Your passion for the newspaper and for your Chimes family will be one of my most cherished memories of these four years.
And to next year's staff, in whom I have nothing but complete faith, I encourage you to learn, to grow and to be ready to fail. Fail beautifully. Because if you never fail, then that means you've never stepped outside of your comfort zone, and that's where some of life's greatest moments happen.