Calvin creates Center for Faith and Writing after generous donation
Following a large donation from Zondervan editor Bob Hudson and his wife, Shelley, Calvin announced the creation of the Calvin Center for Faith and Writing (CCFW) on Wednesday, March 23. In addition to hosting the Festival of Faith and Writing (FFW) every other year, the center will include both student and faculty fellowships, as well as other opportunities for student involvement with publications and media production.
According to English professor and CCFW co-director Jennifer Holberg, English faculty had been talking about the possibility of starting a center for several years. The impetus to begin the process, however, came with the conversations that arose with the administration during prioritization to eliminate the college's funding of the FFW.
This sparked a discussion within the English department about how to acquire the necessary funding and keep the Festival moving forward. The eventual consensus was to start a center, which left only the problem of finding donors.
As these conversations were going on in the English department, Holberg said, Hudson mentioned in an email conversation with her that he had some ideas for working with students at Calvin and that he would be willing to donate a significant amount of money.
"I had a little moment of not being able to breathe, and then I called him and said, 'You won't believe this, but what you're talking about is what we're talking about too,'" Holberg said.
For many years, Hudson has worked with many Calvin students who have done internships at Zondervan, and Holberg emphasized his desire for his gift to benefit students as much as possible:
"[The Hudsons] have a heart for students and for the kind of thing the Festival has been doing for 25 years," Holberg said. "He gave the money not only because he's been involved with Festival all these years and felt welcomed by our faculty, but also because he loves working with our students."
Holberg explained that the Festival's large student committee, student hosts for guest speakers, and the decision to hold the FFW during the school year all make it distinctly student-focused.
The CCFW will further this student-centered approach by sponsoring four student fellowship positions. These students will help with event planning and media production for the CCFW as well as learning about and working with the publishing industry.
Future projects that the directors hope the CCFW will be able to take on include a writer-in-residence program, a publishing institute and more programs for K-12 students and teachers.
There will be a commissioning service for the CCFW in the chapel at 10:30 a.m. on April 14. Students and FFW attendees are all encouraged to come.
English professor Jane Zwart will co-direct the center along with Holberg, and Lisa Ann Cockrel will continue to direct the FFW full-time.
"As a department, we're super excited about this amazing, generous, above-and-beyond [gift]," Holberg said, citing Ephesians 3:20 on God accomplishing "abundantly far more than all we can ask or imagine" (NRSV).
About the Contributor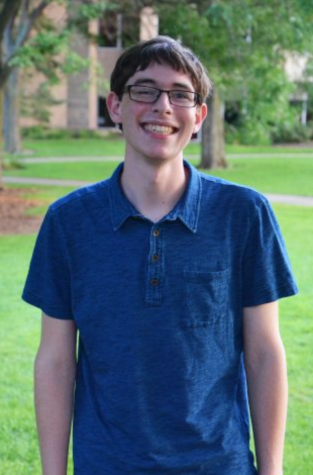 Josh Parks, Editor-in-Chief
Josh Parks is the Editor-in-Chief of Chimes this year after rising through the ranks as a copy editor, religion editor and then print editor. He's a...