Student senate votes to operate outside constitution
During their weekly meeting last Monday, student senate unanimously voted to approve a leadership model not found in their constitution.
Speaking to senators on this vote, student senate advisor John Britton said, "We have to agree, officially, that for the next three and a half months we are consciously not abiding by our constitution." The approval of this measure means that rather than amend the constitution's leadership model, senate will operate in violation of the constitution for the remainder of the academic year.
This decision follows the unprecedented resignations of both senate president Ethan DeVries and executive vice president (EVP) Andrew Darmawan.
Senate granted Darmawan a leave of absence in December due to his desire to protect his academic success, and he resigned on Feb. 8 after further discussion with senate leadership. DeVries resigned during Darmawan's absence on Jan. 25, also wishing to prioritize his academics. DeVries has since enrolled in a study abroad program in South Korea.
In approving Darmawan's leave, "We made the decision that we thought was best given the situation at hand," said Aby Nwadike, vice president (VP) of public relations.
Following Darmawan's resignation, senate named him an unofficial consultant providing technical and administrative support.
"We love and value Andrew. … He has a wealth of knowledge," said Nwadike.
Mallika David, VP of representation, added that Darmawan's current role is "an opportunity [for him] to still feel valued on senate."
Although senate's constitution provides measures for absences of either executive team member, there is no provision for vacancies in both positions.
In response to this unique circumstance, senate has adopted a shared leadership model in which the executive team's responsibilities are divided among the remaining VPs. Britton called this model a "short-term fix for our current situation."
"There wasn't really another choice; that was the problem. If we didn't do this, the senate would have fallen apart," said Laura Steele, recently appointed VP of administration. Steele's role was created to take on most of the responsibilities of the EVP.
While this model was developed with VP of Student Life Sarah Visser, neither the model nor Steele's role are provisioned for in the student senate constitution, and they will not be added.
"We wouldn't change the constitution unless this was what we wanted to do long-term, which I don't think anyone is suggesting," said Britton.
Senate has already begun working on the yearly revisions to their constitution that will be voted on in April. According to David, these will address the situation of two executive team vacancies and offer a recommendation — not a requirement — for what should be done in that situation.
David said the constitution's lack of procedure for this situation gave senate the freedom to make the wisest decision. Among the other options considered were promoting a current VP to president, which would require filling that vacancy in turn, or holding another election. Senate settled on the shared leadership model in part to avoid introducing an untrained replacement for either role.
"It seems like there would have been worse implications if there was a chain of [succession], with no consideration of experience, compared to the freedom that we have right now," David said. "The constitution enables us to do what we did."
About the Contributor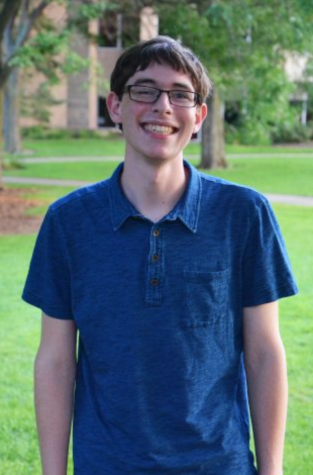 Josh Parks, Editor-in-Chief
Josh Parks is the Editor-in-Chief of Chimes this year after rising through the ranks as a copy editor, religion editor and then print editor. He's a...