Meetings are not enough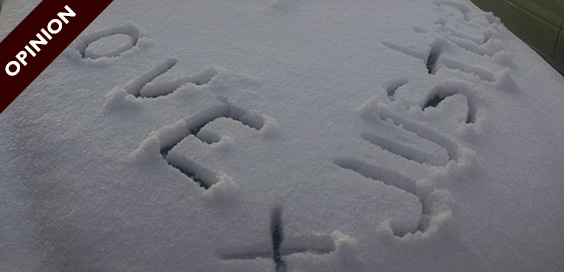 Calvin got together and vowed to stand against racism. That's great, honestly it is. The immediacy with which the administration dealt with the swastikas and words "white power" is impressive and really meaningful. And as President Le Roy acknowledged, the act being done in ignorance is inexcusable. Plenty has been done by the upper echelons of the administration to combat racism and make Calvin inclusive. Of course, more can be done.
The issue I have is that there is no effective solidarity or organization. Why aren't things done more quickly? At risk of being reductionistic: students aren't pushing hard enough. This is not to say that students are doing nothing. Momentum is gathering, but it's slow. Nor am I necessarily suggesting we do as my friend John did at his school and occupy the president's office. But shaming and protesting strongly and with vigor aren't happening, on any issue.
As a queer student I take it as my call, and a desire of mine, to make Calvin better, to help it live up to its goals. But I'm here for four years and Calvin is disturbingly good at the long-game. But as a queer student there's only so much I can do to work with the administration. As a student who cares about doing right by queer students, students of color and others, I recognize that the administration can only do so much. The onus, to some extent, is on us. Is this to say that faculty and administration don't have obligations too? No. But it is to say that students have the potential to be taken seriously and exert their influence and move things forward.
What does that look like? More than repentance. Repentance and healing don't happen without justice. As the prophet Jeremiah says:
"They have healed the wound of my people lightly,
saying, 'Peace, peace,'
when there is no peace.
Were they ashamed when they committed abomination?
No, they were not at all ashamed;
they did not know how to blush."
It looks like disruption. Asking people to sit down, be calm, be respectable, be quiet, be gentle is failure. The cry of "No justice, no peace" means that without justice, disruption of holiday festivities will continue. Without justice, resistance will and must continue. To borrow a line, paraphrased, out one of Sara Ahmed's book: Over-reacting might be said to be reacting to that which is not over. If Calvin isn't doing enough to fight the white supremacy in its structures? React. If they're not doing enough for queer students? React. React because the injustice is not over. React because the sense of safety one ought to feel on campus is not yet here.
Respecting each other as adults who happen to be students is calling one another to be better, pulling out multiplicities. It looks like willingly, explicitly, combating white supremacy, queerphobia, violence, economic injustice. Part of that is naming what the problem is. Saying it's racial injustice is not enough. Name it as white supremacy. Name it as anti-blackness. Saying it's fighting for inclusion for LGBTQ persons isn't enough. Name the problem. And then combat it.
Let's stop acting like prayer vigils and meetings and lamentation is enough. It's not.