Replace ignorance with thoughtfulness: You don't know 'the ghetto Meijer' like you think
Hang on for a minute...we're trying to find some more stories you might like.
Growing up in Kentwood and Grand Rapids, the epicenter of all consumerism for my family and me has been and always will be Meijer. Let's be honest, Meijer is the bomb. They have food, clothes, electronics and limited edition Dora The Explorer backpacks.
When I was in elementary and middle school my dad worked at the Meijer located on the corner of 28th Street and Kalamazoo. We often referred to it as "the ghetto Meijer."
Let's briefly take a step back. When I say ghetto Meijer, are you aware which one I am referring to? Chances are good that you are.
When I talk to some of my peers about this Meijer, their use of the word "ghetto" is off-putting. If I ask why they call it that they usually explain that it's due to its poor quality when compared to other Meijer supermarkets. Unfortunately I will sometimes receive ignorant and implicative statements about the quality of the people who work and shop there instead.
Even saying that I shop there instantly devolves their esteem for me. I'm not going to claim any sort of allegiance to a store, because in the end it's just a place where I get milk and fairly priced clothes. But my sense of nostalgia and love for the people that I grew up around cannot allow me to remain silent.
I would contend that a majority of the people who negatively refer to the 28th Street Meijer as "ghetto" would have no clue what the ghetto is actually like. Go to my old house on Temple Street, look those people in the eyes, and tell them that you would not like to shop at that Meijer because it is ghetto.
You would then realize that where this particular Meijer is located is nowhere near the crime and poverty-ridden streets of Grand Rapids. And yet, it is a preferred home to people of all colors, ethnicities and income levels. I would love to hear Calvin students' opinions on the store before it got renovated some seven or eight years ago.
This Meijer is a place I go to where the workers know you by name. I understand if some Calvin students would go there and not be used to the "low quality" that they've luxuriously been provided throughout their lives. But if you're going to demean all the people who work and shop there as well, spare me your reasoning.
This isn't to say that the people who call it "ghetto Meijer" are intentionally being negative. Many Calvin students call it that because it's an easy reference to something (Meijer) that has many other locations as well. But for those who do: don't use your closed-mindedness and naiveté as an excuse for pompousness.
For too many it doesn't stop at an adverse title — it extends to their opinion of a people. If you categorize a store as unfavorable because it is ghetto then what does that say of your opinion of the people who truly do come from ghettos? What does it say about your opinion of people who shop there and have similar backgrounds to yours?
It is easy to have a simple opinion of something if you are unwilling to immerse yourself in it entirely. I am not writing this to simply bash others. In fact, it is a minority of Calvin students that I am speaking to. For the few that this does apply to, I encourage you to think before you speak and replace your ignorance with thoughtfulness. There are plenty of wonderful people who work and shop at the 28th Street Meijer, but then again it's "ghetto," so you wouldn't know that.
About the Writer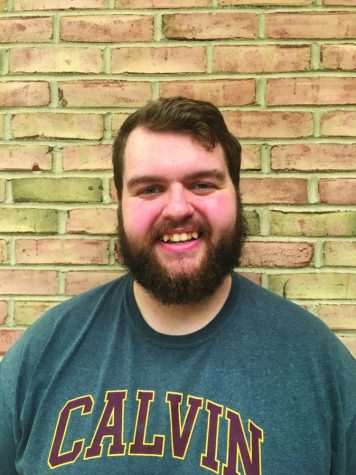 Mark Peless, Multimedia Editor
Mark is the multimedia editor of Chimes for the 2017-2018 academic year. He is a senior from all over Grand Rapids, and graduated from The Potter's House...