Calvin recognized as a Partner for a Racism-Free Community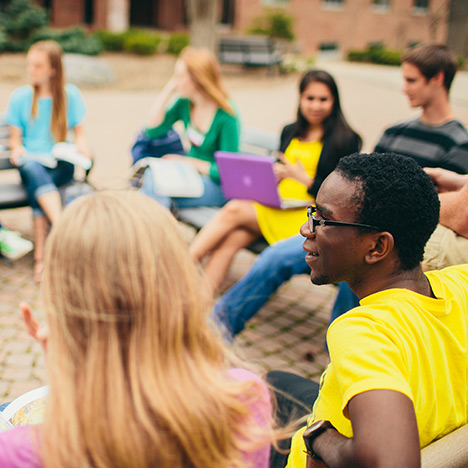 Last month, Calvin was accredited as a Level 2 partner with Partners for a Racism-Free Community (PRFC), a local organization that certifies the equity and inclusiveness of workplaces.
Level 2 is the highest designation available through PRFC, and Calvin is one of only three organizations in West Michigan to be so honored.
Michelle Loyd-Paige, executive associate to the president for diversity, is pleased with this recognition: "Have we arrived? No, but we're making good progress," said Loyd-Paige.
Calvin has been affiliated with PRFC since 2010, when they were made a provisional partner. After an audit of indicators like leadership engagement, policies, collaboration and measurement, Calvin became a full partner two years later.
"In 2012 we were able to say we have the policy, wording, or commitment in print," Loyd-Paige said, "Moving to the highest level means we have continued the effort; it doesn't mean we have completed the effort — it doesn't mean we are racism free."
A lot has changed since 2012. Just two years ago, the biennial Multicultural Affairs Committee (MAC) report showed that less than half of faculty were attending required diversity events annually.
Now, says Loyd-Paige, "We are so far past that." This year to date, with two months of reporting still to go, 66 percent of faculty have attended a diversity event as well as 81 percent of staff.
Another positive change is in transparency. While diversity measures have long been a part of Calvin's strategic plan, before this year, "there was no visible way to see how the college was doing on things," Loyd-Paige said.
Now, Calvin is debuting an online scorecard on the strategic plan website where anyone with a calvin.edu login can track progress for all initiatives. "Eventually that scorecard will be public to anyone who comes to the Calvin website," said Loyd-Paige.
While there is much yet to do, Loyd-Paige appreciates "taking the time to celebrate small victories," she said. "It keeps you encouraged to keep moving forward."
But she doesn't want Calvin to stop here: "Getting high praise from outside sources can cut two ways," she said. Some people feel the designation is premature, "that we haven't moved enough." But others on campus think that issues of diversity and racism have received too much attention.
One thing that disappoints Loyd-Page is people who think an increased focus on race is creating, not addressing a problem.
"We still have people saying 'come on, can we just stop talking about this?'," she said, adding that an attitude remains on campus that "if you just stop talking about it, it will go away."
"These people are confusing having a conversation about racism with hunting for racist people," Loyd-Paige clarified.
"We live in a community where some people—because of their identity—don't have equal access," she continued. Every change in policy, every workshop focused on diversity and inclusion makes Calvin a more welcoming and open place:
"We'll never get there until Christ returns, but that doesn't mean we can't try."