Prayer labyrinth provides space for meditation, prayer during Holy Week
For four days during Holy Week, March 30 through April 2, the Chapel undercroft will feature a prayer labyrinth. The labyrinth is intended to provide a unique place for quiet, restful, meditative prayer during the remembrance of the final days before Jesus' death and resurrection.
This kind of labyrinth is different from a maze, though the word "labyrinth" has historically referred to both. Maze labyrinths, like the mythical one built by Daedalus, are filled with false paths and other dangers.
The other type of labyrinth, the kind used for prayer, has only one path, though that path twists and turns many times before reaching its center.
The labyrinth will be available to students, staff, faculty and others from 9 a.m. to 9 p.m. next Monday through Wednesday and 9 a.m. to 1 p.m. next Thursday. Worshipers usually take about 20 minutes to walk through the labyrinth but the time is entirely up to each person.
According to Paul Ryan, associate chaplain for worship, the twisting path of the labyrinth is metaphor for a kind of faith journey:
"You're taking turns and trying to reach a destination — a center point — and then coming back out of that center point into the world," said Ryan.
Calvin's prayer labyrinth is entirely self-structured and self-guided by each individual worshiper. There are no markings or specific instructions for what to pray about, though there will be suggestions and additional information available for those interested.
One way to use the labyrinth, Ryan explained, is to pray about a different thing each time one comes to a bend in the labyrinth. The center can be a place to meditate on finding one's own center in God.
"It's a reminder that, wherever we are, our center is in Jesus, [and we need] to have that center throughout our journey and life," said Ryan.
The winding path of the labyrinth has symbolized different things for worshipers throughout its use in Christianity. The famous labyrinth on the floor of Chartres Cathedral in France is often said to be a representation of the long, arduous paths Christian pilgrims took to holy sites.
Other Christians see the bends and twists as symbols of the winding courses and unknown futures of our lives. Both before and after their adoption by Christians in the medieval period, labyrinths were used for prayer in pagan religions around the world.
Surrounding the labyrinth in the Chapel undercroft will be places for reading scripture and journaling either before or after worshipers journey through the labyrinth. There will also be a book filled with reflections from participants in previous years' prayer labyrinths.
Ryan said that the kind of extended reflective prayer that the labyrinth encourages is particularly appropriate during the Lenten season and especially Holy Week.
"As a church, we meditate and reflect [during Holy Week] upon the suffering and death and burial and resurrection of Christ in a very story-filled, dramatic way …. It tends to be a week of contemplation."
This contemplative mood, Ryan said, works well with the labyrinth, which provides a "personal opportunity for quiet reflection." Wandering through the labyrinth during the 40 days of the "Lenten journey toward Easter" also echoes the Israelites' wandering for 40 years in the desert.
As Lent draws to a close, Ryan hopes that the prayer labyrinth will help members of the Calvin community in "contemplating the love of Christ … and the work of the Holy Spirit" in our lives.
About the Writer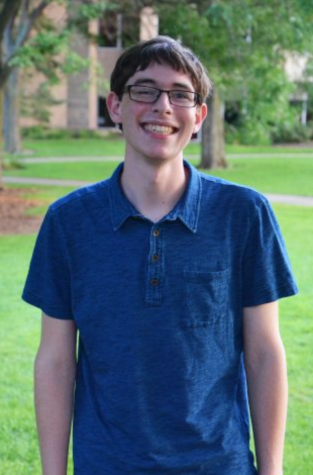 Josh Parks, Editor-in-Chief
Josh Parks is the Editor-in-Chief of Chimes this year after rising through the ranks as a copy editor, religion editor and then print editor. He's a...