Calvin Rebranding will change logos, wording, signs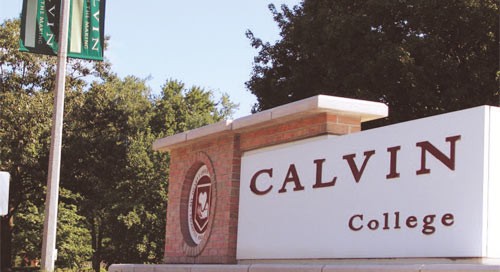 This spring, Calvin looks to redefine their brand for a new decade, taking into account student and faculty perspectives to better represent Calvin's values through marketing tools.
"We have a master brand document that shows what Calvin's personality is, where we stand in position to our competitors and also what our messaging framework and theme is," said Tim Ellens, director of communications and brand steward.
The master brand document was created in conjunction with a branding consultant group after months of input from students, staff, and faculty.
Ellens also hopes to tap into the experience and skills of consultants Scott D. Ochander and Tyler Borders in order to get the most out of the branding process.
Ochander's work has been "remarkable," Ellens said. "The examples he uses are places he has actually been at and fully invested in. So can we get him to help us dig deeper?" he wonders.
Senior Andrew Harris is a student representative on the Core Rebranding Team that is overseeing the rebranding process, and has appreciated being part of the experience. "The entire project was and still is very exciting," he said. "I got to participate and observe workshops where people came together in incredible and intentional ways."
"At a certain point we will have our new visual design, and that will be pretty noticeable in the materials that get produced, but that doesn't mean that all the old materials will be immediately swept aside," Ellens said.
Student senate president Jona Eigege was involved with the process as well stating that he believes the consultants were able to capture Calvin's identity very well: "Through their processes, [they] have accurately identified the story we need to be telling as Calvin College. Calvin's communication right now is very much like other Christian colleges," he said, "But that's not what my Calvin experience has been about."
One of the most significant changes is likely to be the entrance name plate, which will change to reflect any new color palettes or logos that are determined.
Ellens admits that people can be cynical about the idea of branding, but sees it as an important part of Calvin's identity. "For us it is really about how Calvin is telling its story in an authentic way that is compelling for others, said Ellens."
"A key thing that I realized is that a rebrand is not just about logos, colors and catchy slogans," said Harris. "It's a deeper approach to investigate the identity of the college."