Students celebrate the release of Dialogue Magazine
Last Tuesday, the student body congregated in the Fish House over free coffee and music to celebrate the release of this fall's Dialogue magazine.
In the wake of budget cuts and uncertainty in recent years — including decreasing publication from quarterly to a semi-annual issues — Dialogue's editorial staff hopes this issue continues to set high standards and act as a "cultural forum" for Calvin students.
The student-led magazine, which exclusively publishes student work, accepts submission in four categories: poetry, prose, photography and visual art. This issue is the first to include photography as a category.
Jack Van Allsburg, layout editor of Dialogue Magazine, was especially excited about the new category, saying that the change "celebrates Calvin's talented photographers."
Overall, Dialogue almost doubled its number of submissions this year, but accepted fewer pieces than in the past. However, Van Allsburg also noted that this year's Dialogue featured content from more writers and artists than last year's issue. The selectivity of the jurying process, Van Allsburg thinks, has contributed to a particularly high-quality magazine. This is reflected in student response as well.
"People are excited about Dialogue," Van Allsburg said.
All 227 Dialogue submissions were juried by Calvin students, who rated each submitted piece on a scale of one to five. Jurors made their decisions without knowing the names of the artists to ensure a fair decision-making process. Each rated submission was then sent to the editors for final decisions.
"There were great pieces that didn't get in simply because there were so many great submissions," said Van Allsburg.
Accepted authors participated in the release event by reading their work aloud. Other students listened and enjoyed coffee while engaging in conversation with those around them about the new edition of the magazine. Copies of the magazine were handed out at the entrance.
"I thought [the event] was excellent," stated sophomore Jenna Griffin. "I love Dialogue, and it was really nice to hear authors read their work."
After the readings were complete, students hung around and enjoyed music from senior Jenny LaJoye.
Van Allsburg credits Michael Kelly, a Dialogue editor who graduated last spring, with restructuring the organization and building the prestige of the publication, a task he and editor-in-chief Meg Schmidt have sought to continue.
"I thought it [the magazine] was very well put together," said junior Tyler VanZanten. "I am really glad I came."
Dialogue gives students an opportunity to share their work with their classmates. With the growing popularity of Dialogue, more people see the published works.
"I really like the space dialogue creates for the artistic community here at Calvin," added VanZanten.
The current edition of Dialogue magazine is available on its website, along with information on how to submit pieces and join the Dialogue team.
About the Contributor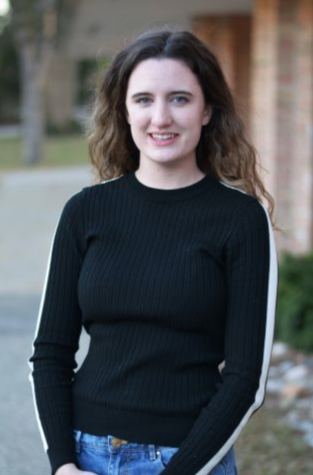 Julia McKee, Campus News Editor
Julia is a co-campus editor for the 2017 spring semester. She is a junior literature major and business minor, hoping to someday go into the book publishing...