Calvin volleyball breaks Hope's undefeated season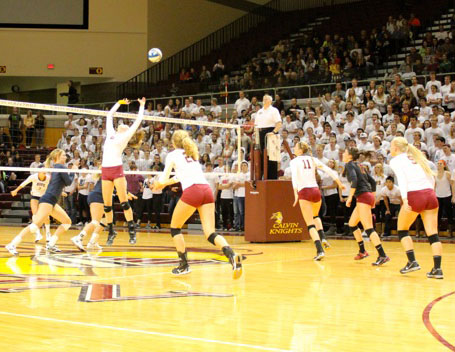 The Calvin women's volleyball team gave its opponent, Hope College, their first loss, breaking Hope's 25-game winning streak. The rivalry game consisted of four sets with scores of 25-22, 25-17, 26-24 and 25-23.
The Knights walked on the court strong, displaying intense energy by not allowing Hope to take the lead at any point during the game's first two sets and only granting Hope one set.
"We had something to prove after our last game against Hope. Our goal has been to keep building and improving along the way. I was happy that my team came out healthy in good spirits and ready to fight," remarked Coach Amber Warners.
Since the team's previous loss to Hope, they have made some offensive adjustments. Adding first year setter, Jenna Lodewyk, to the lineup this season has required the Calvin hitters to adapt to the new player's style.
"Jenna and I have spent a lot of time working together in practice. She's a different style setter that what I'm used to playing with. Gelling together is hard work, since chemistry with new players takes awhile to grow," explained junior Maggie Kamp.
The team's hard work was displayed in the team's performance against the Flying Dutchmen with Lodewyk having 47 assists and Kamp having 22 kills. Senior Elise Biesboer set a career high with 30 digs throughout the game's four sets.
"This game was the most fun I've ever had playing volleyball before. The energy really helped my performance on the court," says Lodewyk.
Before the game, Coach Warners emphasized to her team the importance of focusing on each individual point of the game instead of watching the scoreboard. She also stressed that her players should have confidence both within themselves and in their teammates. She explained this as a major improvement from her team's last showing against Hope.
"Serve and receive is so important in the game of volleyball, and this is something we did better than Hope tonight, and is a big reason why we came out on top," explained Warners.
Following the game, Warners complimented Hope's volleyball program. "Playing a team that stretches your team to its very limits is incredible. What both of these programs [Calvin and Hope] have done for women's sports is incredible."