Editorial: Constructive Conversation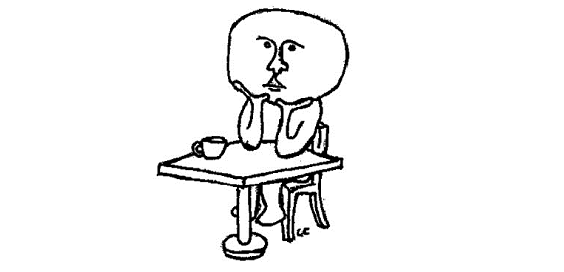 Learning takes many forms. Lectures, discussions, readings and projects seem to fill the time we dedicate to learning, but many lessons fall outside the bounds of explicitly academic settings. If my time at Calvin has taught me one thing, it's the value of authentic conversation. I believe conversation is one of the best ways we can learn, and it often works best outside of the classroom.
This past week, I had a few conversations that stood out to me for this reason. Ironically, the topics of discussion all centered around a lack of "good" dialogue on campus. In our campus news section this week, we have an article about the decommissioning of the faculty dining hall. One professor noted the dining hall used to be a common ground where faculty members from all disciplines could come together in communion and discussion.
Common spaces are important for conversation. We have places like Johnny's and the dining halls to provide students from all different majors the opportunity to meet, share ideas and form community. I believe the college has lost something crucial by removing a key space for all different faculty members to do the same.
The new master plan and its implementation provides students and faculty a unique opportunity to prioritize these open spaces for conversation. This could take the form of a student union space, casual 'hang-out' spaces and places where groups can meet to study. The importance of a physical spaces set aside for this dialogue cannot be understated.
That being said, there is no reason we should not fully use the spaces we have, but perhaps this opportunity will allow us to be more intentional, explicitly designating areas for exactly this purpose. As you learn here at Calvin and discover your passions, make sure you deliberately set aside time to discuss these developments. One of Calvin's best aspects is the accessibility of our faculty and administration. Through sharing our ideas and hearing the diverse and intelligent views of others, we can cultivate the community that we are called to build.
The value of events like this past week's town hall, focus groups to discuss rebranding and forums to discuss hot issues comes in providing this critical space for opinions and ideas to flourish.
If you choose not to participate in these conversations, you miss more than an opportunity to give your input for necessary changes in our community; you lose a key aspect of what it means to learn and grow in college.
Life is busy. Class work, jobs, sports and clubs call loudly for our attention. But as you navigate the hustle and bustle of everyday life, you cannot forget to seek spaces where this dialogue can thrive. You have a duty to the rest of our community to do so.