Feature: Calvin Athletic Directors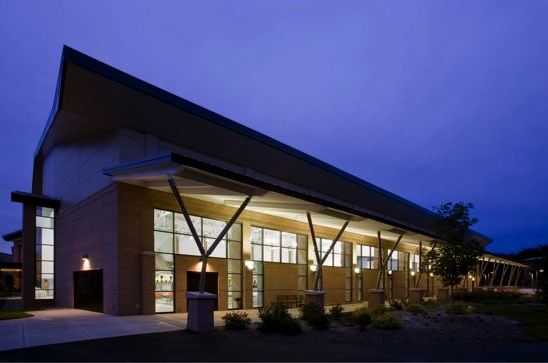 At the head of the Calvin College athletic department are two people who have been working together since 2006. They both play significant roles in the Calvin community, not only as athletic directors, but in academia as well.
Dr. James "Jim" Timmer, Jr.
Dr. Nancy Meyer
Education:
After graduating from Calvin in 1991, Timmer went on to the University of New Mexico to earn his master's and Ph.D.
Meyer, a class of 1978 Calvin graduate, earned her master's from the University of Arizona and Ph.D from the University of Northern Colorado.
Roles:

Director of athletics – external relations and programming
Head of sports management program
Game Day faculty advisor

"A DIII athletic director has to be ready to pitch in wherever needed-whether it's raising the flag or fundraising with the vice president."

Director of athletics – internal operations and compliance
Professor of exercise science and kinesiology
NCAA DIII Management Council

"I do a lot of the detail work," Meyers said. She included eligibility, contracts, hiring assistant coaches and rule compliance among her tasks.

Sports:
Since Timmer's father was an athletic director, he developed an early affinity for Calvin sports:

"Since I was eight or nine, I went on spring break trips with the baseball team."

While in college, he played basketball and baseball:
"[It is] unusual now to be a two-sport athlete."

Also a two-sport athlete, Meyer was a member of the volleyball and softball teams:

"[Our experience] was pre-Title IX in terms of equality. Our coaches were a lot of fun but they had little expertise. The softball coach had a swimming background and couldn't throw a ball."

Memories:
Timmer recalled being a part of the first men's team to go to the NCAA Final Four in basketball.
Meyer shared memories of spending time at the house of one of her teammates on one of her many road trips.
Did you know:
"I am still very close with my parents.  While I share obvious traits with my father, I get my administrative style from my mother."
"I golf; I do triathlons. I have a broad appreciation for all sports."
DIII & Calvin Athletics:
In Timmer's opinion, "DIII athletics are the purest form of sport." He believes it is easily aligned with Calvin's mission because it is a balance of pursuing a degree and playing at a high level.
Meyer noted that some people view DIII sports as "glorified high school events." She pointed out that the top 50 teams in DIII are very comparable to top NAIA and DII teams.
Both Dr. Timmer and Dr. Meyer mentioned that one of their favorite parts of being athletic directors was watching the students compete throughout the year.
"Having a small part in providing an experience that I treasured and to watch our athletes compete is the best part of my job," said Timmer.
Not all DIII colleges have two athletic directors, but Meyer considers it a blessing to be able to work together:
"We are like salt and pepper — Dr. Timmer is creative and I am detail oriented."
Among the shared respect and other sentiments, both directors are committed to staying true to how things have been — balancing excellence on and off the field.