Interim VP of Student Life: Cindy Kok Profile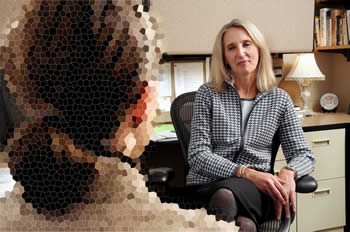 Among the new dining options, bright-eyed first-years and smooth asphalt, Cindy Kok joins the list of changes occurring on Calvin's campus this fall. Kok has been asked to serve as the interim vice president of student life.
Shirley Hoogstra, who served as the vice president of student life for the last 15 years, left Calvin to accept the role of president of the Council of Christian Colleges and Universities (CCCU). Hoogstra's last day was Sept. 5, 2014.
Amidst mixed emotions of excitement and nostalgia, Hoogstra speaks to the confidence from staff members following the decision.
"Cindy was unanimously believed to be the best person from the inside for interim," recalls Hoogstra. "She knows what everybody else does."
This acquired knowledge stems from Kok's experience as head of the Broene Counseling Center for the last four years. Students who visit Broene can receive help for a variety of psychological and emotional challenges from qualified professionals.
"The counseling center intersects with almost every area of my [student life] division," says Hoogstra. "She's a holistic choice."
The counseling center isn't the only place Kok has experience at Calvin. She previously served as a faculty member. On the faculty senate, Kok worked with Entrada and helped with strategic planning in the last 15 years she has been on staff at Calvin.
The role of vice president is a large undertaking, as Kok will oversee various parts of the student life division, including campus ministries, campus safety, career development, residence life and others.
John Witte, dean of residence life, explained to Chimes how the role of vice president affects each these areas.
"She isn't day-to-day in residence life," says Witte. "She has too many areas that she will be supporting and looking out for."
 Witte explained that part of his role is to keep her informed and updated about issues and changes occurring in residence life. According to Witte, as the search for a new vice president begins, the campus of Calvin College will continue to operate without any significant changes.
"[Kok's] goal is to support how we are doing things now," says Witte.
Hoogstra also said that not much change can be expected, but admitted that "the nature of a college is that you will get unexpected things. When those challenges present her and the division, she will just lead well around the challenge."
Even if challenges do arise, staff feel confident that Kok will lead well.
"She's very insightful and calm in her leadership," says Witte. "I think she can see a problem and say, 'we need to solve it; here's a solution and we can work on this together.'"
"There was no anxiety in the room around the transfer of leadership," remembers Hoogstra when thinking back to the "passing of the baton," as she fondly calls it. Both Witte and Hoogstra were very optimistic and believe Kok will be a valuable staff member in this time of transition. Witte concluded:
"We are very excited to have her stepping in; it's a great choice for this interim."