Calvin/YoungLife partnership still going strong after several years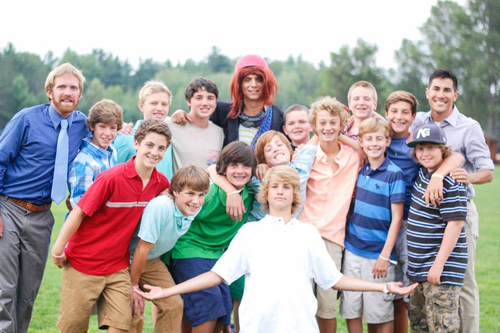 There's "no end in sight" for Ron Hedgcock, according to the 2013 Calvin graduate himself. Hedgcock said this as he reflected on his four-plus years as a Northeast Grand Rapids YoungLife leader, expressing his desire to continue in his role. YoungLife (YL), a Christian ministry intended especially for teenagers, has several local branches in Grand Rapids alone, despite being a national organization.
According to an issue of The Calvin Spark, Calvin College and YoungLife formalized their partnership in the Spring of 2011. Since then, Calvin students and alumni alike have continued to use this coalition as an opportunity to serve in their community.
YoungLife's stipulated mission is "introducing adolescents to Jesus Christ and helping them grow in their faith." For many Calvin students, this mission is what attracted them to the club in the first place.
"I figured YoungLife would be a good opportunity to continue working in youth ministry," said Hedgcock, who spent several summers as a Christian camp counselor. Scott Burden, a 2012 Calvin graduate and current staff assistant with Central Grand Rapids YL, echoed this sentiment, asserting, "what makes YoungLife unique is the fact that we desire to share the Gospel with kids through our consistent presence in their lives."
So just how does this group go about sharing the Gospel with young teenagers? Well, they first fill the need for group leaders. From the start of their partnership with Calvin, YoungLife has had a table at the popular extracurricular expo, Cokes and Clubs, and this setup is how both Hedgcock and junior Hannah Bentele first entertained the idea of serving as leaders.
Neither had worked for YoungLife before, but Bentele said, "I figured this would be a great way to get involved with something important outside of Calvin's campus."
Other students use prior YL experience as motivation for a leadership position. Sophomore Ally Carter, who "fell in love" with YoungLife her sophomore year in high school, claims her YoungLife leader (a then-Calvin student) was the reason she came to Calvin in the first place.
"I knew I wanted to be a leader here, too," Carter said. "So I contacted [Northeast Grand Rapids YL Area Director] Matt DeHoog, and not too long after, I got a call asking if I wanted to be a leader at Forest Hills Eastern High School."
As for what these leaders actually do, there appear to be a myriad of roles.
"You start by being assigned to a certain gender and a certain grade," Bentele said. "I'm currently with senior girls at Forest Hills Eastern, and I've been with them since their sophomore year." Once they meet their group, their primary responsibility is to, in Carter's words, "be a part of these [teenagers'] lives, get to know them and walk with them in their journey to know Christ."
This sort of bond can yield significant benefits for the leaders, as Bentele explained.
"This has helped my relationship with Christ, because I can't be a good leader of my girls without working on my own relationship," Bentele said. "For instance, they frequently ask really good, philosophical questions about the Bible that I can't always answer, and that in turn makes me want to learn more about the Bible."
Finally, leaders also organize and lead the YoungLife Club meetings, which usually take place at the home of one of the middle or high school students. Bentele described the usual format of these events.
"They're really just kind of insanity … they usually involve some mixture of playing games, singing songs and watching funny YouTube videos, but at the end of the night, there's always a 10-minute devotional time called 'club talk,' and this is a way to work Jesus in amidst all the fun," Bentele said.
Many outside of the program may be skeptical of the success of this format, but for those that have attended and worked with YoungLife, there is no doubt in their minds that this is an effective model of ministry. Carter maintained that she "met Jesus because of YoungLife" and that young people are similarly experiencing this.
"Kids who don't typically want anything to do with God or church or religion in general can come and see how much we and God love them, free of judgment," Carter said.
"While there are many kids who go to YoungLife and also have Christian families and/or attend church regularly, there are also many that do not," Hedgcock said. "YoungLife is designed for that second group."
"YoungLife exists to reach a lost and often times misunderstood generation by being present in kids lives consistently and it is for that reason that YoungLife is a ministry model that is so incredibly effective and motivated by the good news of the most beautiful love story known," Burden said.
Although numbers in Calvin participation have slightly decreased (an estimated 22 YL leaders are from Calvin this year, compared to 32 just three years ago), the effects on the Calvin community are as strong as ever.
"God is good and, as evident in YoungLife's long and rich history, He is continually blessing the ministry as we seek to reach a world of kids," Burden said.