Calvin baseball ready to kick off season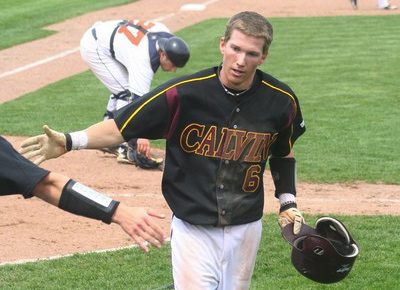 After finishing fourth last year at 15-13 in conference and 16-25 overall, the Calvin Knights are looking to take advantage of an experienced squad.
Coach John Sparks provided optimistic insight. "With more than 20 returners and the addition of a couple players, I think the ceiling is high for this team. We have a little more pop in the lineup this year."
After hitting .299 as a team but only slugging .070 better at .369, Coach Sparks noted that the additions of Matt Schepel, Peter Cupery and Colte Wolfe will help drive the ball to the gaps.
Junior outfielder Grant VanPutten was a keystone for the offense last year, hitting .426 while setting Calvin records in single season stolen bases (23), hits (63) and at bats (148) as well as all-time records in stolen bases (44). He is excited for this season. "We are pretty confident that we can do better than our projected finish and compete for the conference tournament." He is the only returner to have played in all 41 games last season.
Another advantage of having so many returners is the depth on the defensive side. The Knights were third in fielding percentage, finishing at .951. Having a strong defense gives the pitchers added confidence. Senior pitcher Jeff Victor noted, "We have a great defense behind us with a lot of depth. No matter what line up we have in, we play to win."
With upcoming games in the south, the Knights are looking to start things off with a win.  Senior pitcher and designated hitter Jack Jorgenson acknowledged the importance of these games. "We want to win these games and get prepared for conference. We are looking for guys to pitch well and take good approaches at the plate."
New to the program, assistant coach Zak Gonzalez has been helping the pitchers prepare.
"He is entrusting us to know the basics and he is teaching us a lot about situational pitching," said Victor of Coach Gonzalez.
Senior pitcher Grant VanderWall believes the pitching staff will be much improved from last year. He sees their job as "pounding the strike zone, but at the same time being smart and knowing what to throw."
With the returning talent and additions of players with unique tools, there is one thing on VanderWall's mind: "I'm just ready to play."