Gatsby formal sells out nearly two weeks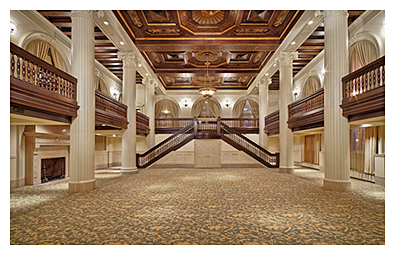 Hang on for a minute...we're trying to find some more stories you might like.
Tickets for next Friday's Great Gatsby Formal and Poker Night were sold out last Monday, eleven days before the day of the event. The event is set for Friday, Feb. 21 and is organized and hosted by the Calvin's Weekend Programming Team, a division of the Student Development Office (SDO).
The idea originally emerged in a SDO brainstorming session. According to Nite Life's Lauren DeGroot, fellow member Nicole Wilson came up with the vision for the event.
"The vision has become a reality," DeGroot said. "It is truly amazing to watch an idea become a successful event, so I am eagerly anticipating Feb. 21."
The event will take place in the bi-level Imperial Ballroom at the Amway Grand Plaza Hotel in downtown Grand Rapids.
Organizer Nicole Wilson states students should expect to be "dazzled by its snazzy, five-star, historic splendor."
The top level of the ballroom will be completely dedicated to poker, allowing students to test out their poker faces. A private, high-stakes room will also be available for the high rollers.
The main level of the ballroom will be reserved for partying, and will feature food, dancing and a photo booth.
Wilson expressed her excitement for the event.
"Personally, I'm just excited to see the campus let loose and have a little fun," Wilson said. "The Amway Grand is the perfect venue, so I'm excited to see it lit up with all the pretty dresses, classy '20s attire and beautiful faces of Calvin College."
The Great Gatsby Formal and Poker Night will stand out from other SDO events, according to Wilson.
"This event is like none other," Wilson said. "It's one of the first all-campus formals that Calvin has had in a really long time. It's also unique because it's downtown Grand Rapids, right in the heart of the city."
Support for the event has already spread throughout the student body.
Freshman Brooke Bonnema expressed her eagerness for the event.
"The Gatsby formal is by far the most brilliant thing Calvin has put together," Bonnema said. "I can't wait to see what they do with it."
Junior Alex Corner commented on the pairing of a formal with a poker night.
"I've never actually seen the movie," Corner said, "but I like the thought of a dance with poker involved. It makes it feel old-school."
The event is capped at 450 students with tickets priced at $8 for Knollcrest East residents, $10 for Calvin students and $12 for non-Calvin students.
Formal attire is required at the event, but 1920s attire is encouraged.