Bob Goff speaks on calling and Ephesians 4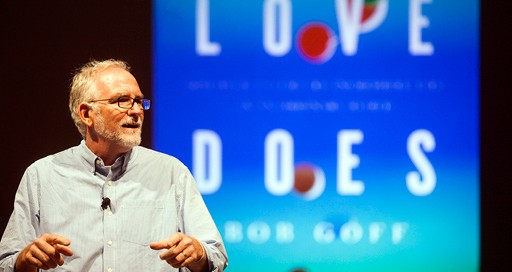 Hang on for a minute...we're trying to find some more stories you might like.
"Don't do what you're bad at!" said Bob Goff, speaker at last Friday's January Series lecture.
In an interview afterwards, Goff, author of "Love Does," repeated this exclamation as he discussed the life of a Christian and exploring one's lifelong journey in a calling.
Inspired by Ephesians 4:1, Goff believes every Christ follower was designed to do something that brings forth their God-given talents.
"Calling is the sum of all that you're good at," Goff said.
Goff emphasizes how we do what we do, following the apostle Paul's urging to the believers in the city of Ephesus to live a life worthy of the calling they received. Goff made clear that we should not just live and work — any work done is worth doing well.
Furthermore, Goff believes that God has placed an ability in everyone.
"I can't believe that God placed us here to do something that we're bad at," Goff said.
Goff adamantly encourages a life of discovery, saying that understanding our talents begins in our going out into the world.
"Keep current," Goff said.
In the midst of discerning calling, Goff has a word that speaks to failures along the road of discovery.
"Failures happen, but your failures do not define you…Stop looking through the rear view mirror and move forward," Goff said to encourage his audience.
Goff hammers home a distinction: simply because your work takes effort does not imply that it's not a calling. All the more, God calls us to develop as we go along this lifelong journey.
"Sometimes what you're good at needs to be developed…If you're no good at the banjo, that's okay! Get bagpipes!"
Goff asserts that moving forward in our calling is a constant walk of faith.
"If what I'm currently doing is like a seat in an auditorium, I like to think calling is one seat over to the right," said Goff, implying that calling is always just out of reach.
Goff's words supplement a familiar topic in the Calvin community: calling and vocation.
Senior Ellie Price found Goff's talk encouraging and summed it up in one sentence:"Take love, or calling, and do not call it ministry…call it Tuesday."