Preliminary evaluations suggest First Year Seminar was a success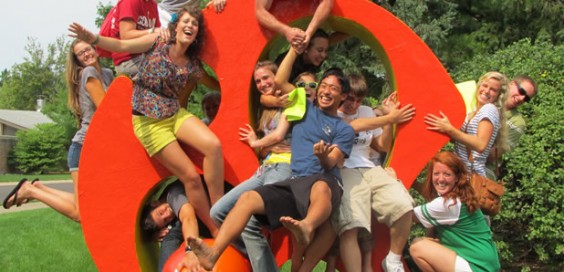 The First Year Seminar (FYS) data is in, and while an official evaluation is still in the works, preliminary evaluations find the revamped course largely a success.
"There were some things that really worked and some things that didn't," said Mike Stob, dean of institutional effectiveness. "Overall it was a success — not smashing, but we didn't expect it to be."
"Some of the logistics were funny because it was the first year," said Sara Mulder, professor of English and FYS coordinator. "I never heard any complaints from the first-years, but then we never really talked about it."
Julie Yonker, professor of psychology, member of the curriculum committee for FYS and FYS section instructor, found that her students greatly appreciated the practical applications of the new FYS structure, particularly the addition of the "C-talks."
"In my experience, my students found C-talks quite enriching," said Yonker. "There were videos from almost every discipline on campus. With one on history, one student told me they never thought they would like to take a history class, but then signed up immediately, largely due to the talk."
Stob and Yonker found, both through formal evaluations and anecdotally, that most students found the talk "I Wish I was Told… at Calvin" the most helpful. This video shared everything from the accessibility of professors to the existence of Grilled Cheese Wednesday.
"I was sitting in my office one day," said Yonker, "and as students were leaving class I heard one student ask another, 'Did you get grilled cheese yesterday?' and the other said 'No! The line was all the way out the door!'"
Yonker and Mulder also found that first-year students greatly appreciated the week that featured student panels.
"It was really good for freshmen to hear from students who had gone before," said Mulder, who then highlighted such advice as "it's okay to say no," "budgeting time" and "knowing how to schedule."
Stob highlighted the week of mandatory half-hour student-instructor meetings.
"We found that often first-year students do not find themselves in faculty offices until advising," he said. "That's late into the semester. I think [these meetings] helped by giving students the idea that [professors] are a resource."
He added anecdotally that there are more first-year students in professors' offices than ever before.
Yonker then emphasized the longer-term benefit of FYS.
"Students may not have articulated it immediately, but everyone took stuff away," she said. "Sometimes the benefits might [appear] next semester after there has been time for the information to sink in and for the students to understand the relevance."
All these changes and FYS as a whole came about after a reexamination of Prelude.
"Ten years into a course, it's time to see if it needs a face-lift," said Stob. "When we started, we didn't think it would be such a radical shift."
He explained that the main problems with Prelude were the abstractness of the themes and the disconnect between Prelude and DCM (Developing a Christian Mind).
The weekly topics of FYS were tweaked to focus on practical tools for first-year students.
"Prelude focused on important topics and themes students face again and again, like worldview, justice and discernment," Stob elaborated. "The topics of Prelude, while important, easily became superficial in a six-week class. FYS instead looks at the student and their transition into college."
"FYS gives students a toolbox of coping strategies," said Yonker. "It focuses on the practicalities, like 'how am I a student; how do I use my time?' This is not the last big change for students and for life happening during college."
Additionally, FYS saw shortened class time, a new pass/fail status and an increased emphasis on diversity.
The shortened class time is "an unqualified success," said Stob. "Seventy-five minutes is just the right time to keep people's attention at the end of the day."
On the pass/fail status, he continued, "We're not so sure about the pass/fail. Lots of instructors liked it. There was no pressure for students to write for a grade and not all instructors grade the same or even know how to grade well. But there were some students who took advantage of the pass/fail requirements."
He continued that perhaps they will keep the pass/fail, but clarify the guidelines.
The last big change centered on an increased emphasis on diversity, which meant bringing in the From Every Nation (FEN) document, speaking more about cultural issues and tying the class more closely to UnLearn Week.
"This section was more highly rated than ever before," said Stob.
"Vocation is the united theme," said Yonker. "Right now students are called to be students.  FYS helps them see how that plays out in the classroom."
For all its successes, though, FYS did have some setbacks.
"The course was uneven," said Stob, "what we try to accomplish in each week, how much homework to assign."
He added, "We may have gone too far in not engaging the big ideas."
The nature of the one-hour course is also problematic.
"The one-hour/one-credit status sends a signal to students that the college doesn't think it's as important, so they don't take it seriously."
All in all, Stob said, "We are most likely to do it again next year. We'll revise everything and tweak each week."
But no matter what happens, Stob stressed, not everyone will like the results.
"With 1,000 freshmen," he said, "there is no 'one size fits all' class. No matter what we do, some will like it and some won't. We've certainly moved in the right direction, but we're not yet where we want to be."