Women's soccer ties top-ranked Wheaton, defeats St. Mary's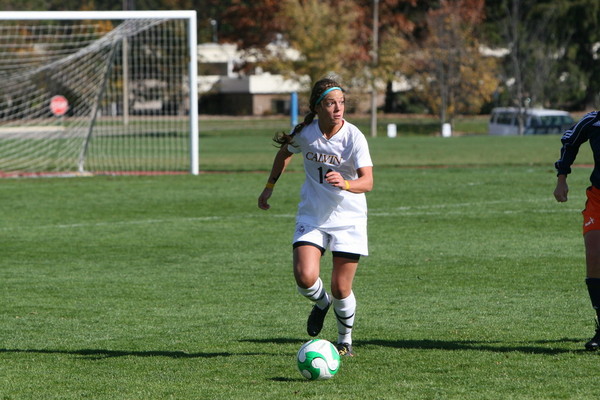 The Knights took a break from facing MIAA teams, but they didn't take a break from playing good soccer. The women's soccer team earned positive results from two challenging matches this week as they faced Wheaton and Saint Mary's.
If the ladies were going to be nervous about either of the games this week, it would have surely been the first game of the week, facing Wheaton, the No. 1 team in the nation. Despite being down 2-0 with less than 25 minutes to play, the Knights came up with two equalizing goals.
Kailey Jo found teammate Heidi Scholten in the 67th minute to give the Knights some momentum. Paige Capel later took advantage of a scramble and knocked a shot top shelf to tie the score. With the game winding down, Calvin nearly finished the win, except for an offsides flag that denied Scholten of a second goal that would have put the Knights ahead.
Ashton Hearn was put to the test in the net, as Wheaton compiled 21 shots. Hearn managed to make 12 saves of 14 shots. The Knights stayed strong through two overtime periods, but the score remained and the Knights took home a point for the tie.
The Knights hosted Saint Mary's on homecoming weekend. In the 31st minute, Taylor TenHarmsel took a pass from Scholten and buried it in lower left corner to put the Knights ahead.
The Knights came out in the second half looking to lock up the victory. They held off the Belles' attack and then created some chances of their own. TenHarmsel earned her team a corner kick when she forced the keeper to make a diving save. Danielle Carter then out-jumped her defender and headed the ball into the net in the 58th minute. Kelly Koets found a goal of her own shortly after to put the Knights up 3-0.
The Belles wouldn't stay down until the whistle, forcing Hearn to make key plays for the Knights in order to preserve a clean sheet.
The Knights have five conference games left in the season, only two of which are at home. Be sure to check the schedule for upcoming games.