Student life restructure connects student programs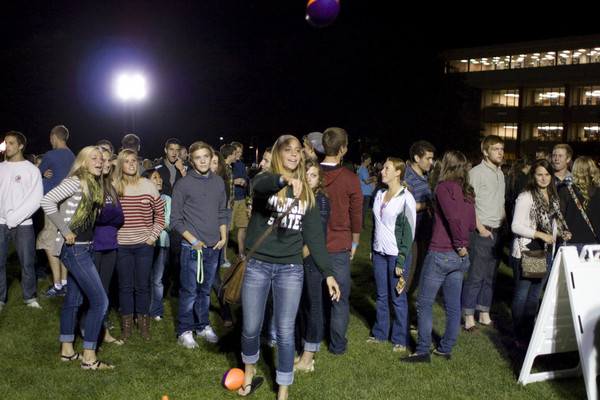 Just before the start of the school year, Shirley Hoogstra, vice president for student life, made several changes to the student development office, bringing student programming and organizations closer together and dividing up offices into several parts.
One tangible advantage of the new structure is the consolidation of the student activities office (SAO), weekend programming and residence life, said John Britton, assistant dean of campus involvement and leadership.
"They are more connected, so there can be more collaboration and potentially more effective events," said Britton.
Bob Crow, dean of student development, agreed.
"We've reached the point of oversaturation," said Crow. "We really need more strategic programming to be more effective."
Due to new initiatives formed over the summer, Hoogstra's cabinet role had expanded, decreasing her involvement in her senior leadership team in comparison.
The addition of a new dean, Christina Edmonson, to the multicultural and international student development offices (MSDO and ISDO) caused the leadership to question the current structure of the student development office.
"[Because of this], we needed to add more voices and wisdom to the senior leadership team," said Hoogstra.
The plan put together four new clusters as a part of her leadership team: international and multicultural students, wellness, upperclassmen and campus culture.
Each team is comprised of several supporting staff members in addition to one or two members of the senior leadership team.
"By extension, we are adding voices to the senior leadership team," Hoogstra said. "We're trying to create new synergies for strategic planning."
The implications of the new teams led to the rearranging of the student development office.
Britton previously worked under Crow as associate dean of student life. While Britton continues to work with orientation, student organizations and weekend programming, the shuffle has given him several new responsibilities, including SAO.
The campus culture team has five focuses.
"We oversee campus facilities, like the fieldhouse, to see how they impact student culture," said Britton. "We [also] look at the divide between upper- and underclassmen; we examine whether the school is over-programming; we look at what kind of campus culture we want; and we assess how curricular and co-curricular education can be more united."
Crow has retained his direction over service learning and off-campus students. Among his new duties are developing grad school programs for Calvin and making student life more efficient and more effective.
This new structure is not without its challenges, though.
"When we all worked together, we all knew what was going on," said Britton. "It complicates things not having colleagues meet on a regular basis."
The matter is further complicated by the short notice.
"The changes were kind of a summer thing," said Britton. "We were more informed of the change than involved in the conversation of the change. I don't want to say it's a positive change, but I'm optimistic of the potential and hopeful of the benefits."
Crow concurred. "Any time there is change there will be adjustment. It takes time to develop patterns. There will be residual confusion and a ramp up to figure out reporting lines," he said.
The teams are mindful of the changes, though. "Everyone is thoughtful and willing to try," said Hoogstra.
She recalled how 13 years ago, career development was a part of the Broene Counseling Center.
"Now, no one can imagine those two being the same thing. It was an offshoot of one plant given its own pot so its roots could grow." She is confident the changes will bring "more focus and intentionality."
"The advantages and disadvantages will be organic," Hoogstra said. "We can't possibly know what they are right now. But Calvin is an evidence-based college."
Through all the changes, the teams have focused on two questions: "What can I learn?" and "What don't I know?"
"These questions should inform our work moving forward," Hoogstra said.