Bytwerk engages students in weekly prayer groups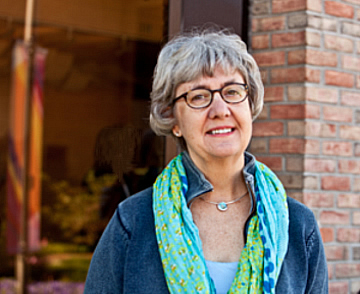 Sharon Bytwerk, Calvin's coordinator of spiritual direction and prayer, has invited Calvin students to join her in taking an hour from busy schedules to pray and rest.
Throughout the semester, she will hold prayer groups every Tuesday and Wednesday from 3:30 p.m. to 4:30 p.m. in the Chapel undercroft in order to bring students closer to God and closer to each other.
"My hope for the groups is one, honor God; two, establish good friendships," Bytwerk said. She believes that commitment to regular prayer is important in maintaining a faithful and healthy lifestyle.
"By establishing groups that covenant to meet regularly, we may more easily keep ourselves faithful to our Lord and deeply at peace, even in stressful times," Bytwerk said.
Past participants in Bytwerk's spiritual direction groups have noted the small number of students that attend the groups, despite the positive impact the group meetings have on participants' lives.
Madeline Hamacher, who attended the groups for two years, commented that the group's unpopularity may be because it is an introverted activity on a college campus that focuses on extroverted activities.
"The focus isn't about external stimulations: What's happening? What are we doing? It's about being. What are our deeper thoughts?" Hamacher said.
Laura Bratt, another two-year participant, attributes the unpopularity of the group to the required vulnerability.
"We aren't used to participating in conversations and being expected to voice our thoughts and feelings about our faith," Bratt said. "Spiritual direction involves talking about what you are struggling with, which for the average college student is really hard. Nobody likes to admit they are struggling, especially Calvin students who are supposed to have it all together."
Hamacher emphasized the importance of active involvement in the group.
"Unless you're really putting your mind and your heart into it, then it probably would be boring," Hamacher said.
Despite the group's low attendance, Bratt and Hamacher both talked animatedly about the positive influence Bytwerk's prayer groups had in their lives. Beyond accountability to pray, the group fosters a community of friendship among the students. Through vulnerability and openness, these relationships mature.
"To successfully admit to a group and to God what is going on in your life takes courage and then to go on and be expected to pray out loud to God and ask him what he is trying to tell you through this is another difficult step," Bratt said.
Although Bytwerk encourages students to commit to attending the prayer groups on a weekly basis, she said that newcomers are always welcome.