Track team competes with D-1 schools at Spartan Invitational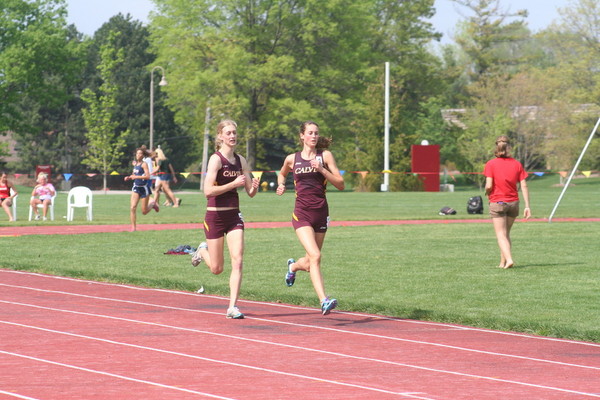 The Calvin track team had a successful day at the Michigan State Spartan Invitational. The team was able to compete with NCAA Division I and Division II talent despite cold and windy conditions.
In the throws, senior Aaron Meckes threw 47.05 in the disc and 15.54 in the shot while freshman Eric Jipping had a career best throw of 12.24 meters in the shot put. Freshman Haley Stadnikia threw 29.19 meters in the javelin.
"It was a good solid day in preparation for next week's events" said coach Katie Dean, "I was impressed with the effort today despite the windy conditions."
Highlighting the jumps and sprints, senior Carissa Verkaik jumped 5'3" to place second overall. Sophomore Calvin Kuyers ran a 55.93 in the 400 hurdles to place sixth overall. Sophomore Eric Holstege ran well in the 110 hurdles and the 200m dash and sophomore Breanna Verkaik ran well in the women's 400 hurdles.
The men's distance team was highlighted by senior Dan Kerr who successfully put away the field in the 5,000 meter run with a time of 14:43. Seniors Job Christiansen, Matt VanderRoest, and David Vandebunte finished fourth, fifth, and 10th. In other distance events senior Greg Whittle ran 3:54 in the 1500 meter dash and junior Sam Kerk ran 4:03 to place fifth and 15th respectively.
Coach Brian Diemer had this to say: "We had a number of very significant performances. Greg Whittle in the 1500 in a 3:54 showed that he has the range to get back to nationals and be a contender. Dan Kerr showed a very strong tenacious drive against the wind and competition and to run a significant time in that wind is important. [Junior] Phillip Spitzer showed huge development winning his heat of the 5k with a strong mindset."
The women had some notable performances as well.
Junior Alyssa Oram ran a personal best in the steeplechase placing seventh with a time of 11:27.
"To run a personal best when the cold water had to be about 32 degrees is impressive. She hurdled well, moved through the field and made a significant statement," commented Diemer.
Junior Nicole Michmerhuizen won the 5k, taking and maintaining an early lead over the rest of the field. Junior Rebekah Folkema's first time competing in the 1500 was a "significant development," according to Diemer, and senior Kaylea Brase ran "a very strong race," coming a bit short of winning her heat.
Sophomore Rachel Folkema returned from injury early in the season to run a 2:21 800m dash.
"We showed a lot of heart and determination out there, even on a very tough day. That showed what the Knights are made of."
Next week Calvin competes at the MIAA Jamboree, which is worth one half of the conference title.
"It is going to be tough" said Diemer. "We are going to have to bring our best and compete with a lot of heart and desire. We are going to have to get points wherever we can."
Last year the men placed second in the MIAA and the women took first.