'Books in the Baking' showcases culinary talent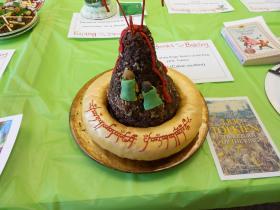 "Books in the Baking," a contest for Calvin students and staff to showcase their creative culinary skills, returned to the Hekman Library for a strong fourth-year showing.
On April 1, more than a dozen chefs showcased an entirely new way to enjoy beloved classic books such as "Charlie and the Chocolate Factory" alongside "Cat in the Hat" — with forks.
Entrants showed their imagination by using all the ingredients normally found in cakes and complementing them with unconventional edible items to construct bridges, trees, houses and even a bus on top of the desserts.
Licorice, lollipops and frosting spaghetti littered the cakes supplementing what cake batter simply could not do.
Winning the "Funniest/Punniest" category with her rendition of "Cloudy with a Chance of Meatballs," junior entrant Lauren Verstraete found some difficulty in recreating oversized food raining from the sky in a sugary treat.
"I had trouble with the houses — I kept breaking the graham crackers," she said. Lauren had stacked a variety of delicacies including pancakes and doughnuts around her houses, and with melted caramel, cemented her structures alongside her prize.
This was her third year participating, and she definitely plans on competing with another entry before she graduates.
With a few days of hard work and a long trek from Midland, Mich., senior Kayla Junga took home the 'People's Choice' award with her Lord of the Cake (Rings): Return of the King.
The tiny and edible pair of Frodo and Sam ascended a chocolate Mount Doom to toss an edible ring into candied lava. Sadly, they did not make the journey and were eaten, but their effort is as commendable as Kayla's.
The contestants were baking for more than just pride; the four winning desserts were all awarded with campus store gift certificates ranging from $25 to $50.
Junior Karis Roper won "Most Creative" with a rendition of "Magic Schoolbus Under the Earth," while the power team Jenna Bouwer and Kara Steenstra claimed the title "Most Appetizing" via "The Giving Tree." Bouwer and Steenstra's cake was the first to be devoured, proving their rendition was indeed most appetizing.
Despite being a competition open to all Calvin College staff, faculty and students, the turnout was a little disappointing, remarked librarian Kathy De Mey.
"Only one guy registered for the event," she further lamented. She hopes more men will participate in future years and make a showing at this event dominated by women.
The Hekman Library had advertised the event well, putting ads in Calvin News and on posters around campus; for their convenience, participants could register either online or in person.
The Hekman Library purposefully planned the event after spring break at a time when students will have less academic stress on their plates.
Some students remarked they had seen the advertised event but would rather eat a cake than make one, and thus attended solely to feast. Despite the few number of participants, students and faculty converged from all floors of the library to take a break from reading books to eat them.