Michmerhuizen takes national runner-up in indoor 5,000-meter run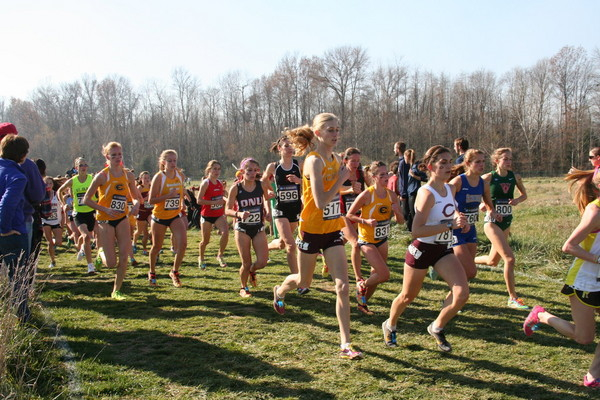 This weekend Nicole Michmerhuizen took second place at NCAA D-III Indoor Track Nationals in the 5,000-meter run at North Central College in Naperville, IL. She ran a time of 16:57 in her breakout performance and lost to eight-time national champion Christy Cazzola by less than a second. I sat down with her to recap the experience:
Jeff: Congrats on second in the nation! What were your expectations going into the race?
Nicole: I definitely wasn't expecting to be second, but I was hoping to be an All-American, which is top eight.
How did you feel right when you finished?
When I first finished I was kind of in shock, I had just gotten second, but I had also just been passed by Cazzola.
Who was the first person you wanted to see after?
Well, I saw the coaches first, Coach Rick Otte came up to me and was super excited. We talked to Cazzola for a bit, then I saw Al and Diemer and they were very excited! I got a "Diemer hug."
What were you thinking during the race since you led almost the entire way?
At first I was a little bit worried about leading, but then I thought "I just have to keep going at this pace, I can do it, if I can make a big enough gap they won't be able to catch up."
Why did you lead almost the entire race?
I led because I like feeling like I am in control of the race and what to expect next. It doesn't bother me to lead.
At what point did you know Cazzola was hot on your tail?
Right before she passed me. I couldn't hear anything, so I didn't know until she was right next to me. I was trying to watch the live feed and see who was behind me, but I could see no one. I didn't think about looking behind me at the time. I couldn't hear anything because the cheering was so loud!
What kind of training do you do in preparation for a race like this?
For most of the winter until a couple of weeks before the race I was running 70 miles per week. I lift twice a week and do core as well. I was feeling pretty good in the weeks leading up to the race. Sometimes I would wonder if I was tired, or just nervous, but the day before the race on the warm up Diemer told me that he could tell I was going to do well. That was reassuring.
What advice would you give to young runners?
I guess I would say that if you put in the hard work and trust in your training and persevere you never know what is going to happen. Don't be afraid to set big goals because you never know what God is going to do or what you are going to accomplish. This was never in the plan three years ago and I could never have envisioned this. There are a lot of coaches, teammates and supporters from the Calvin community who have helped me get to this point.
What was the peak of your high school career and how have you come so far?
My best race in high school was 21:07 which I ran at Portage senior year. People always ask me this, and I am a little unsure what to say. I have been blessed with amazing coaches and my teammates are a big part of it too. In high school I came from a low mileage program and I have found better training in college. Running has become something I really love to do now and I think I also gained a lot of confidence in myself in running and other parts of life. It has been cool how that has played out in all areas of my life.
What did you do to celebrate your national runner-up finish?
We went out for dinner at Culvers because we wanted to get back to Grand Rapids and almost every restaurant in the area was full. It wasn't what I would have chosen, but I was very hungry. If I had my choice, I would have chosen pizza. We also stopped for ice cream which was nice.
One random fact the readers don't know about Nicole?
A lot of runners like peanut butter, but I don't. I like it in bars or sweet things, but I really think it tastes gross plain. And no, I am not allergic.
What are you going to run this spring season and what are your goals?
I am going to run the 5k and 10k. My goals are to qualify for nationals first, then of course and place as high as I can.
Going for the win?
If I can — we will see what happens.
Any final words?
I just feel really, really blessed to have had this experience. It is something I am going to remember for a very long time. I have been blown away by all the support — people sending emails, writing notes — I have felt so much love from the Calvin community which has been amazing. It is still sinking in, little by little.
Nicole will take a break for a while and travel with the rest of the track team to South Carolina for two outdoor meets, but she will not be racing.