Le Roy appoints Hubers to new human resources associate VP role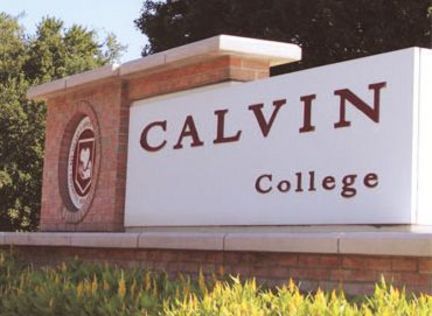 President Le Roy appointed Todd Hubers, formerly director of human resources, Calvin's first associate vice president for human resources last November.
Hubers' position is a new one, but he comes to it with plenty of experience. Since coming to Calvin in 1994, Hubers has worked in many different departments of the college. He served as director of human resources beginning in 2004.
Hubers hopes to channel his passion for the Calvin community into his expanded role.
"I love working in higher education—especially at Calvin—and love the energy, ideas and commitment of the faculty, staff and students I get to work with. It is a pleasure to be able to serve them and to work to help provide a work environment in which they can thrive," he said.
As associate vice president of human resources, Hubers has similar duties to those of director, but now reports directly to the president. Hubers believes the change reflects Le Roy's commitment to making the Calvin staff and faculty community a strong one.
"Having human resources on the President's Cabinet provides another voice or avenue for faculty and staff to raise ideas or concerns and have them addressed by leaders at the college," he said.
Le Roy announced the change to faculty and staff in an email.
"The health of any organization depends upon the well-being and effectiveness of its people, and a college is critically dependent on people to serve students well.  Faculty and staff need to be supported in their growth and development as servant-leaders," he wrote in the email.
Le Roy had already begun working with Hubers and the human resources department toward that end back in September when the two offices worked together to launch "President's Coffees." The coffees are monthly opportunities for faculty and staff to meet with the president regarding college business, as well as get to know each other better through fellowship and shared devotions.
In the February 2013 Human Resources Report to the Board of Trustees, Hubers said these meetings have been highly successful, describing the meetings as "extremely well received" and noting increased attendance each month.
"At our meeting in January we filled the Recital Hall in the Covenant Fine Arts Center and faculty and staff had an opportunity to hear from President Le Roy and D. Koopman regarding the upcoming Strategic Planning and Prioritization processes," he wrote of the most recent gathering.
The report noted several other significant projects as well, including a number of interdepartmental efforts toward improving workplace quality and optimizing effectiveness and efficiency in hiring processes. The college is also working toward improved sexual harassment training and more cost-efficient healthcare.