New Calvin orchestra conductor a familiar face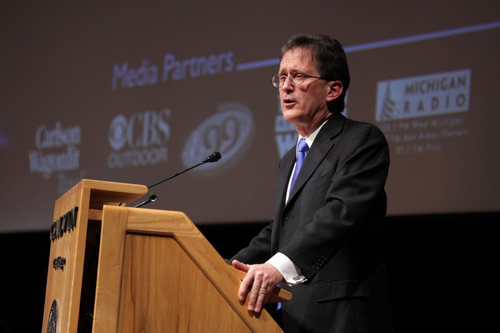 John Varineau, Calvin's new orchestra conductor, will be a familiar face for many students and faculty.
Varineau, who previously taught at Calvin as an adjunct instructor for 22 years, has forged a recognized and respected name for himself in Grand Rapids over the past three decades.
Coming to Grand Rapids in 1981, Varineau started his career as the director of bands at Grand Rapids Baptist College (now Cornerstone University). During the next seven years, he began conducting part-time for both the Grand Rapids Symphony and the Grand Rapids Youth Symphony.
In 1989, he was promoted to a full-time position with the Grand Rapids Symphony, leading him to resign from his teaching job at the college. But Varineau did not leave education completely. He taught clarinet at local institutions, including Grand Valley State University, Grand Rapids Community College, Cornerstone and Calvin. He also visited Calvin and Western Michigan as a guest conductor.
With his accumulated background in the area, students and professors agree that Varineau will acclimate quickly at Calvin.
"He already knows and has worked with a lot of us as a professor, which is awesome," said student Jenny LaJoye, reacting to the news. "He has a great sense of humor."
Dr. Bert Polman, the chair of Calvin's department of music and chair of the search committee, also saw Varineau's previous Grand Rapids and Calvin experience as a positive.
"Because Varineau is the conductor of the Grand Rapids Youth Symphony, a number of Grand Rapids-area music students know him well, respect him, etc. and now some of those students are in the Calvin Orchestra or play in the Calvin Community Symphony," said Polman.
"He'll be teaching clarinet, mentoring conducting students and teaching various classroom music courses, which is all stuff he's already been doing at Calvin these past many years as a part-timer."
Of course, Polman says, that's one half of Varineau's new position, although he may be recognized more for the other parts of the appointment.
"His role as a conductor of the Calvin Orchestra and the Calvin Community Orchestra (formerly Calvin Alumni Orchestra) will obviously keep him in the public eye, but that's only about half the job," said Polman.
Fortunately for Calvin, Varineau is equally excited for both parts of the position.
"I love making music with people, no matter what age level or proficiency," said Varineau. "The thing that excites me about the position at Calvin is that it is unabashedly within a Christian faith environment.
"The music department has an unofficial motto:  music is our passion; students are our priority.  I love this statement and it really fits my own approach to music within the academic setting."
The Calvin community seems to be equally excited to bring on Varineau, who Polman says survived a strict hiring process.
"As is required under Calvin's procedures, we did a national-level search using the ordinary online places in which Calvin always advertises," said Polman. "Our search committee eventually narrowed the list down to three finalists, each of which was invited to campus for 2 days for interviews, sample rehearsing, etc.
"After that process John Varineau was chosen as the No. 1 person and he then went through the final interviews with the provost and a dean and also with our professional status committee."
Despite the strict process, it seems that Varineau may have been the committee's first choice all along.
"When Professor Nordling announced that he would be leaving, Dr. Polman talked to me about applying for the position," said Varineau.
"Throughout the interview process, he has been very encouraging.  In addition to that, there were several other faculty members who I've had professional relationships with, most notably Dr. Shangkuan and Dr. Reimer who were very encouraging."
In addition, Varineau mentioned that Polman fought to ensure that the position would continue to be a full-time, tenure-track position — a stipulation that Varineau needed to be able to take the position.
But in the end, both parties did what was necessary to ensure a happy marriage and both Varineau and the Calvin community are looking forward to the partnership.