The Rivalry: What to Watch For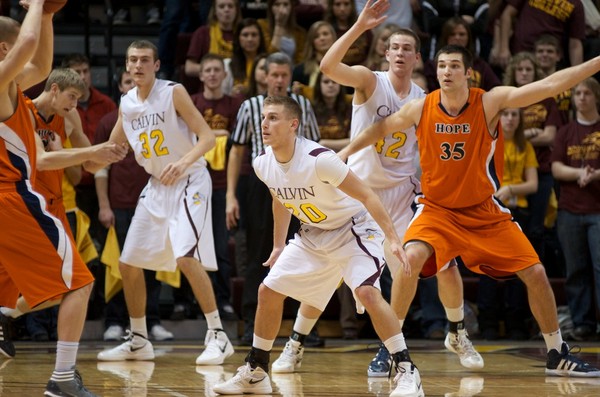 If you can't attend the game, you can watch online or follow the Chimes coverage on Twitter. Watch for photos and the full story after the game on our Facebook page.
After 182 games through 93 years, the Calvin and Hope men's basketball teams are two of the most bitter rivals in college athletics.
But recently, Hope has dominated the series. The Dutch have won 7 of the last 8 games between the two teams, and Hope holds a 5-2 advantage at Van Noord Arena.
Wednesday night's game is especially critical, as the two teams are playing for the sole lead in the MIAA, and Calvin is hoping to improve on its No. 21 ranking — its first top-25 standing in five years.
Here are the five things to watch during Wednesday night's game, as the men hope to accomplish what the women did on Saturday night.
1. Tough defense by Calvin. Hope has a number of guys who sink the three-ball. The way Calvin will cut down on this is to stick tight to the Dutchmen. They will be forced to take it inside.
2. Inside shooting. Calvin has the height advantage in this matchup. Watch for Calvin to feed the ball inside to get through Hope's defense.
3. Turnovers. Hope's guards have a high average turnover rate — almost 2 turnovers higher than Calvin's. Calvin will try to force the Dutch to turnover the ball as much as possible.
4. A fast-paced game. Hope's Billy Seiler is great at stealing the ball and dishing it out. Calvin's equivalent is Bryan Powell. His YouTube-worthy fast break and dunk against Hope last year rallied the crowd. Watch for a lot of breakaways during this one.
5. A loud crowd. VanNoord will not be quiet. Fan bases from both schools are expected to be out in full force. In fact, Calvin practices with loud noise to help imitate the crowd. Knight Nation will help its team out by being loud Wednesday night.
Fun fact: On average, the Calvin and Hope are separated by less than one point per game: Hope leads the total series score, 12,393 to 12,262. Hope also leads the all-time series with 95 wins and 87 losses.