Inauguration ceremony celebrates and challenges Dr. Le Roy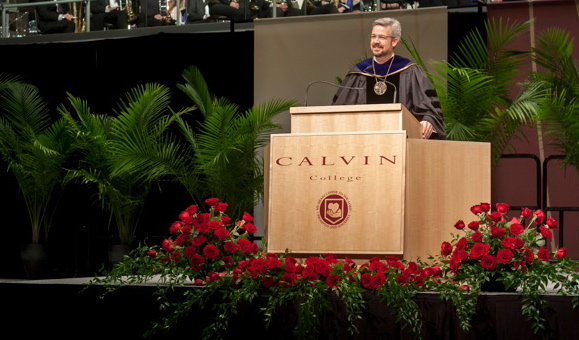 In front of an audience of faculty, staff, students, alumni, community representatives, and over sixty delegates from around the country, Michael Le Roy was inaugurated as the tenth president of Calvin College on Saturday afternoon.
The inaugural ceremony included both challenges and encouragement for the new president, as well as poetry, Scripture reading, music, gifts and dance.
"Wow.  Calvin College.  It's an amazing place, isn't it?" President Le Roy asked as he stepped onto the stage on Saturday.
The new president received words of charge and encouragement from those in the Calvin community and beyond.
William Robinson, president emeritus of Whitworth University, asked the community to loosen their expectations of Le Roy.  "He will make mistakes, and he will disappoint you.  He will admit his mistakes and be saddened by your disappointment.  But you have to let Michael be Michael," he said.
Robinson, who has known Le Roy for 19 years, also gave words of advice to the new president, among them "do what Andrea tells you," and "love outsiders," where he referenced Le Roy's Presbyterian background.  "Calvin gets this.  If it didn't, you wouldn't be here.  You didn't exactly grow up in Amsterdam," he quipped.
Professor Jennifer Holberg offered encouragement on behalf of the faculty with words from scripture, telling the president, "Be strong, be of good courage, be not afraid for the Lord your God is with you wherever you go."
In his inaugural address, Le Roy spoke of the parable of the two houses, one built on the rock and one on the sand.  "This parable is relevant for followers of Christ, but also for colleges seeking to be faithful to Christ," he said.
He also spoke of Calvin's need to adapt in the face of changes in teaching, learning and the value of a liberal arts education.  "[Calvin] is a house of learning, indeed, and it's been under construction and in the process of renovation since 1876," he said. "It is a house that is reformed and always reforming"
His belief is that Calvin will adapt and renew while remaining rooted in the Reformed Christian mission.
"Storms will come and the waters will rise," he said.  "This is not a forecast, but a certainty in Jesus' parable.  But in the midst of these storms we have a promise.  The house built on the rock will stand."
The ceremony also showcased student talent.  Representatives from several of Calvin's musical ensembles performed together, leading worship as well as the processional and recessional.  Dancers also took part.  "It was an honor to worship God with the rest of Calvin," said senior dancer Vanessa Persenaire.  "It's awesome to see everyone come together."
"This is a celebratory season," said Yeaji Choi, student body president and member of the inauguration committee.  Choi called Le Roy "student-focused," and spoke of the committee's intentionality in involving students in the inauguration.
"We are so thankful for your presence on campus, your greetings at Johnny's, and your willingness to dine with us in the dining halls," she told the president.
Students also recognize Le Roy's presence around campus.  "His actions thus far show he's interested in connecting with the student body," said senior Melanie Holtrop.  "He's fun and approachable."
"He in himself seems very real and very humble," said senior Laura DeJong.  "I love that he knows who I am and it's a normal thing to see him around campus."
Prior to coming to Calvin, President Le Roy taught political science at Whitworth University, his alma mater, in Spokane, Wash.  He graduated from Whitworth in 1989 and earned his Ph.D. in political science from Vanderbilt University in 1994.
His studies have taken him to Göteborg, Sweden with a Fulbright Scholarship and to 3 different Central American countries.
He chaired the department of political science and international relations at Wheaton University before returning to Whitworth, where he served as provost and executive vice president.
A Calvin search committee unanimously chose Le Roy as the nominee for Calvin's tenth president in December 2011. Calvin's Board of Trustees appointed him to the role in January and the synod of the Christian Reformed Church confirmed the appointment in June.
This article has been updated since original publication.