Professor and Student represent Calvin at Grand Rapids Film Festival
In the tradition of bigger film festivals such as Cannes in France and Sundance in Utah, Grand Rapids hosted its ninth annual film festival on April 8. Calvin professor Sam Smartt and Calvin student Nate Roels both appeared in the festival's line-up, showing their own original films to a crowd of attentive film goers.
Roels — a senior and first time contributor to the festival — showed his short film "Renardo." The documentary tells an eleven minute story about the struggle and inner transformation of a prisoner in Richard Handlon Correctional Facility. Roel's film premiered in front of the feature-length film "What Happened in Vegas" as part of the transformative category.
"I wanted to do a film on the Calvin Prison Initiative originally, so I talked to Professor Cioffi and Professor Smartt about making a documentary on this subject," Roels said. "We talked to the Warden of Richard Handlon Correctional Facility who knew Renardo personally and, after he contacted him first to make sure he'd be on board, gave us his contact information. I called Renardo and he was all for it — he wanted his message to be shared because it's a very positive message of forgiveness and redemption."
CAS professor Sam Smartt also submitted his short documentary "Shipping Home," which he made with his former grad school classmate Chris Zaluski. "Shipping Home" is about a couple living in Asheville, North Carolina, who built their home out of shipping containers. Zaluski first heard about the couple when he saw it on Facebook, and Smartt said, "[Zaluski] decided to film that couple for a year but then it evolved into something totally different. It was one of those situations where the truth is stranger than fiction, and was a good reminder that documentaries don't always end the way you expect."
Smartt was in charge of the editing and post production end of the project. Smartt said, "It was maybe the most challenging project I've worked on, in the editing anyway. We thought we were finished filming, but then four months later something happened and we realized 'oh, we're not done yet,' meaning we had to go back and rethink the whole film in some ways. So, that's the best and worst thing about it. It makes the 'Shipping Home' unique and it makes it more than just an HGTV kind of thing, there's more depth to it than that and it ends up being more about their relationship and their family within the structure of building the house."
"Shipping Home" has now premiered in a total of twelve film festivals including the Grand Rapids Film Festival, and has also just signed a contract for academic distribution. It began premiering across the country as early as April of 2016 and will likely end its run by the end of this summer.
Both Roels and Smartt were honored to be a part of the Grand Rapids Film Festival, an event held annually at the Wealthy Theater that is becoming increasingly popular each year. "'Shipping Home' film screened the same weekend in a film festival in Taos, New Mexico," said Smartt, "which is a great festival — but there's something cool about being able to walk six blocks and being able to see it in an old local non-profit theater around people from this area."
Roels and Smartt plan to continue working on documentaries in the future in hopes to continue submitting them to festivals. Roels is working on a film about a boxer from Flint, Michigan with the production company he is currently employed for, and Smartt — while juggling a few projects at the moment — is in the process of creating a documentary around Professor Molnar, an astronomy professor at Calvin who has predicted a red dwarf supernova explosion five years from now.
About the Contributor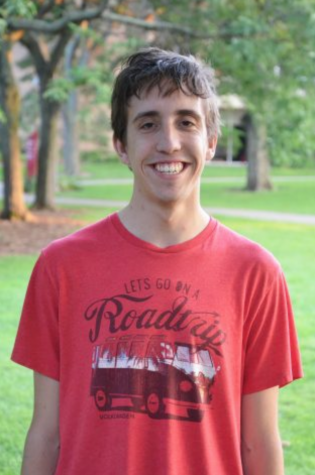 Brandon Schreur, Arts and Entertainment Editor
Brandon Schreur is the Arts and Entertainment editor this year. He's a junior majoring in writing and film studies. He's from Holland, Michigan, and...