Calvin hosts the eighth biannual Festival of Faith and Music
Throughout the past fifteen years, Calvin has continuously provided a welcome platform for artists to perform during their biennial Festival of Faith and Music. Having hosted guests such as The Civil Wars, Sufjan Stevens and Lupe Fiasco in the past, the festival has created an environment where artists are invited to enter in and talk about the inspiration for their art and why music matters. As the 2017 festival once again drew to a close this past Saturday night, this year's event proved to be no exception. Holding three separate concerts throughout the weekend — Jamila Woods with Vox Vidorra on Thursday night, Julien Baker with Vagabonds on Friday night and David Bazan closing on Saturday night — along with a variety of keynote speakers and presentations, the Calvin Festival of Faith and Music once again brought together artist, students and out-of-state visitors into a place of art, thoughtful reflection and jamming beats.
Jamila Woods w/ Vox Vidorra
by Brandon Schreur
Jamila Woods may be best known for collaborating with Chance the Rapper on his latest project "Coloring Book"; however, if there's one thing that last Thursday night proved, it's that Woods is more than capable of standing on stage by herself as a solo artist.
Being an African-American female from the Chicago area, much of Woods' music addresses issues of black femininity and what modern day womanhood looks like, all of which were prevalent in Jamila's performance. Keeping the stage to more of a simplistic level — consisting of only herself and a few band members — Woods was given ample space to create a thought-provoking and self-reflective show.
In an interview for Spin.com regarding the release of her new album "HEAVN," which Woods released online for free last year, Woods said, "Labels erase why we have issues in the first place, and how our government just really doesn't care about the people in those places. So it gets kind of hard to be like, 'Chicago's the best place ever, you know? It's so beautiful,' because there's so much that is wrong here, and a lot of bad things that are happening. That's why I say 'complicated,' because I want to celebrate the people and the places that I love here, but not without acknowledging what's happening. There needs to be a different narrative than the one that's being fed to us over and over again."
Woods' musical style ranges from hip-hop to R&B, with an occasional slower song thrown in there every now and again. Her soft yet melodic voice, along with her talented background musicians, provide a perfect pairing to create meaningful and sometimes hymn-like musical pieces.
Following the show was a conversation with Woods, led by music critic and NPR host Jewly Hight, in which Woods was asked about her inspiration for creating music and ties to certain issues.
While Woods' concert may not have sold the most seats out of everyone who performed at the festival, her work is highly important nonetheless. Woods is a passionate and talented musician who is capable of using her music as a means to discuss history, race and much more. As she sang in front of an enthusiastic crowd in the CFAC Auditorium, her words carried a lot of weight and left the audience something to ponder — something that the festival highly encourages.
Julien Baker w/ Vagabonds
by Jackson VanHaitsma
Concerts are often an exercise in both audio and visual splendor, featuring flashing lights and throbbing bass that pump adrenaline into the systems of both performers and audience alike.
However, Julien Baker's show — which she gave in the CFAC auditorium last Friday night — told a different story, one that is more personal and contemplative.
A musician of only 21 years old, Baker stood alone on the stage, holding her guitar and leaning into a microphone. The sole performer, every note heard was entirely her own, whether it came from chords vocal or stringed. Yet oddly, the show took on a communal feel — in part thanks to the soft singing heard among the crowd, which Baker noted several times as her favorite part of a live show.
Baker's music isn't afraid to be unique; it strays from the overt "verse, bridge, chorus" formula, instead favoring a flowing soundscape — a mesh of guitar strings and vocals that pierce both thought and soul. It's music that encourages emotion, and Baker's vocals shine through their expressiveness.
Yet the magic of the show was not purely the music, but the wisdom and insight Baker shared throughout. "Even the parts of us that are ugly can exhibit something beautiful," she noted, before strumming headfirst into a song, leaving the audience to contemplate the significance of her words. As part of the Festival of Faith and Music, Baker was also not afraid to veer into the spiritual, sitting by the piano as she explained questions from her past: "Why is this wrong with me? Why am I this way?" she would ask, before coming to the realization that she "was made like that on purpose."
Playing an entire concert alone is certainly an exercise in vulnerability, as Baker opened her soul to the auditorium through her music. Yet she craved this level of expression; "being transparent is part of beginning the healing process," she said genuinely, before living out those words in another poignant piece. "Art is a byproduct of your healing. It's what you need to do to make sense of this world."
The concert itself was evidence of the truth in her phrase. Beyond her beloved "dad jokes" and meditative thoughts, Baker made the concert a place of healing through her vulnerability, encouraging an environment of emotional honesty.
Following the concert, Baker remained on-stage to answer questions from the audience. Perhaps most telling was the answer she gave when asked about how she looks at her success — an answer that spoke to the significance of community.
"It's easy to achieve success when you define it as having meaningful relationships with people," she articulated, mere moments after having accomplished just that with a full auditorium; her words were not empty promises, but clarifications of her actions and their meaning. In a performance devoid of arrogance or artifice, Julien Baker made her art a relationship, one through which she loves — the ultimate intersection of music and faith.
David Bazan
by Jordan Petersen
David Bazan is no stranger to the work of Calvin College's Student Activities Office;he has performed here on numerous occasions, including the very first Festival of Faith and Music in 2003. His work centers on his fractured yet insistent relationship with Christianity and has struck chords with both those who have been able to keep their faith and those who have not. Through song, Bazan creates an honest and open space for doubt and questioning.
This remained true in David Bazan's performance on Saturday to close out the 2017 Festival of Faith and Music. Shown in conjunction with a partial version of the upcoming documentary Strange Negotiations about the work of Bazan by filmmaker Brandon Vedder, Bazan's performance was disarming in its honesty and vulnerability.
There is a complete fluidity to a David Bazan performance, which, as the documentary showed, primarily takes place in houses these days. David Bazan the artist and David Bazan the person are presented as one; when in song, his booming baritone and intense focus make him feel otherworldly, but there is always something — a cell phone ring that reminds him of his grandparents' house, a question shouted by an audience member — that brings him back to earth.  
On Saturday, Bazan's candor led to both grief and praise. He grieved for the nation, mourning for marginalized people unsure of their place in America today. "Everything I was taught growing up was betrayed by the people who taught it to me," he stated, amplifying the dissonance and despair of his songs. But with this grief he took comfort that places like the Festival of Faith and Music exist. "Every time I come to this festival, I get filled up with healthy things and can be freer with myself … It's one of the safest places I know," he said, providing a fitting closure to this year's festival.
About the Contributor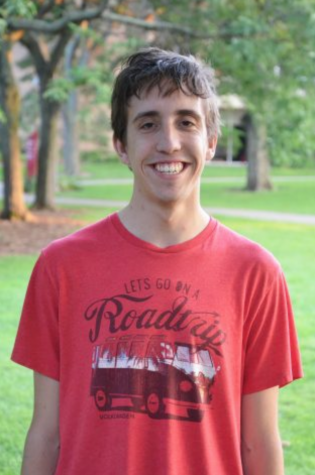 Brandon Schreur, Arts and Entertainment Editor
Brandon Schreur is the Arts and Entertainment editor this year. He's a junior majoring in writing and film studies. He's from Holland, Michigan, and...