Music festival shines despite uncertain future
Jamila Woods, Vagabonds, David Bazan, Vox Vidorra and Julien Baker — among many others — will all be in town this weekend performing as part of Calvin College's eighth biennial Festival of Faith and Music.
The festival, which began in 2003, is put on by a committee consisting of sixteen members — some of whom are students — with cooperation from the Student Activities Office (SAO). Bringing together and inciting discussion between artists, writers, critics and audiences for three days, the festival aims to discern the way music can be central to the Christian faith.
Ken Heffner, committee member and Calvin's SAO director, described this year's festival as being in a timely moment. "We had a long, ugly campaign and a surprising election, and it has been interesting to watch how artists are responding to this — because artists tend to be on the cutting edge of these kinds of things," said Heffner. "Sometimes they act as prophets and they critique and poke and prod at what is going on. Sometimes they're trying to comfort us. But artists are always key in culture making — in particular, when culture is going through a volatile time. So this is a festival that is about music, with an underlying theme regarding how art is responding to this huge political shift in the country."
Jamila Woods is kicking off the festival on Thursday night, with local band Vox Vidorra, returning to Calvin for a second time, opening. Woods is a Chicago-based hip-hop/R&B artist who also collaborated with Chance the Rapper on his Grammy-winning "Coloring Book." On Friday, Julien Baker will be returning to Calvin after her well-received performance in the Ladies Literary Club this past fall. "We had such an amazing time with Julien in September," said Heffner. "She's brilliant, very articulate and a rare Christian who's working in the public square and not doing confessional worship music — she's just doing straight up folk, and it's getting incredible press. After we had her last time we thought we had to bring her back to the festival, and she was thrilled to come back."
Following each of these shows is a discussion — Woods' being hosted by music critic Jewly Hight — with the artist about their work.
David Bazan, who has performed at past Festivals of Faith and Music, closes the night out on Saturday. Along with Bazan's concert, Brandon Vedder — brother to musician Eddie Vedder — is premiering part of his documentary on Bazan's career "Strange Negotiations." Vedder says, "The footage we've captured, along with Dave's 20-year body of work, give the audience a front row seat to the heartbreakingly intimate process of a man losing his faith, his worldview, and slogging eyes open through the stages of grief."
Along with the concerts, the festival draws in several keynote speakers and workshops — including Calvin graduate and former managing editor of Christianity Today Katelyn Beaty, spoken word artist Hanif Willis-Abdurraqib and NPR editor Ann Powers — along with a panel discussion examining how artists are responding to the Trump administration that is being lead by Daniel White Hodge.
While the Festival of Faith and Music has always been a success in the past, this year's may be the last festival for the time being due to budget concerns. Heffner said, "Our ability to actually do another [festival] is becoming diminished. We're going to be down to a one-full-time-person office next year, and then we'd have to go find some new money — which is not out of the question. We're not saying absolutely no chance, but it doesn't look promising."
While the future of the Festival of Faith and Music may be uncertain, Heffner is committed to this year's event. He said, "What makes the festival somewhat unique is that it's a rare hybrid of academic conference about pop culture with practitioners about pop culture with actual pop culture. The fact that we do stuff during the day and then each night combined with an engaging framework is what makes us unique. To our knowledge no one else is doing both; they do one or the other."
The festival is taking place this weekend from March 30 to April 1. Students are able to get into any of non-concert events for free.
About the Contributor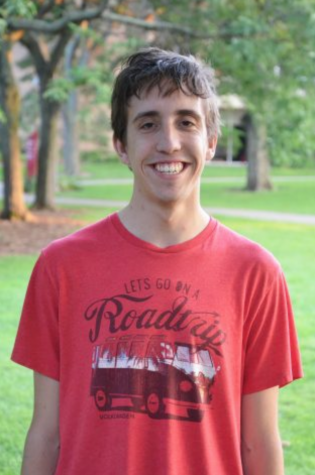 Brandon Schreur, Arts and Entertainment Editor
Brandon Schreur is the Arts and Entertainment editor this year. He's a junior majoring in writing and film studies. He's from Holland, Michigan, and...