Film Arts Committee hosts screening of "4 Little Girls"
Spike Lee has long been passionate about pushing for rights in the African-American community. Having made films like "Do the Right Thing", "Malcolm X," and most recently "Chi-Raq" — among many others — he has used his status as a talented director to fight for racial equality and justice. While Lee's film"4 Little Girls" — a documentary released in 1997 — may be less familiar to modern audiences, it is a remarkable entry in his long and important resume of work.
The Film Arts Committee of Calvin College hosted a viewing of "4 Little Girls" last Tuesday night in the CFAC Recital Hall. The Film Arts Committee partnered with MSDO (Multicultural Student Development Office) for the screening to celebrate Black History Month.
The documentary sheds light on the terrorist bombing that occurred at 16th Street Baptist Church in Birmingham, Alabama and tragically killed four young African-American girls — Addie Mae Collins, Cynthia Wesley, Carole Robertson and Carol Denise McNair — in 1963, during the height of the Civil Rights movement.
"We traditionally try to play a movie every year during Black History Month," said Daniel Lee, president of the Film Arts Committee. "Last year we played 'Straight Outta Compton,' the year before was '12 Years a Slave.' This year we chose '4 Little Girls' because it's a very good film and we wanted to play something a little lesser known to the general public."
"4 Little Girls" honors the girls by featuring multiple interviews from relatives, friends and others who knew them while also touching on the significance that the bombing had in Birmingham and the part it played in the Civil Rights Movement. The film is both moving and powerful in its simple yet decisive storytelling. Done without any voice-over narration, instead simply using interviews and photographs that bring the story to life, the film received an Oscar nominated for Best Documentary in 1997.
Lee also said that "Khayree Williams, assistant dean for MSDO, helped us pick this movie because we believe it's an important film that we should watch again and again. It has an important message that reminds us that we may have come a long way as a country, but we've also got a long ways to go. I thought this movie portrayed both sides of that really well."
After the film, Williams led a discussion in which the viewers were invited to share their initial reactions to the film, talk about the major take-away points and discuss how some of these issues are still relevant today.
Thematically similar to the recent documentary "I Am Not Your Negro," (which is now playing at Celebration! Cinema Woodland) and some of acclaimed filmmaker Ava DuVernay's work — such as "13th" and "Selma" — "4 Little Girls" is a film that students should take time to view.  While it tells a story that took place in the past, its story one of great importance and it also contains messages that are extremely relevant to America's current situation.  "4 Little Girls" is a tragic movie that can be hard to watch. Yet simultaneously, it manages to be an incredibly reflective one — one that encourages and provokes action.
"We're going to collaborate with MSDO again and also SAGA (Sexuality and Gender Awareness) this time towards the end of the year. Even though we don't get as much attendance at these events compared to the SAO films — maybe because these movies aren't as well known or attractive in terms of the subject matter — I'm hoping that at least some people will be moved by these movies and will hopefully ask other people to see this movie if I have time. I am donating this DVD ("4 Little Girls") to the library, so if anyone is interested they can come check out this movie," said Lee.
About the Contributor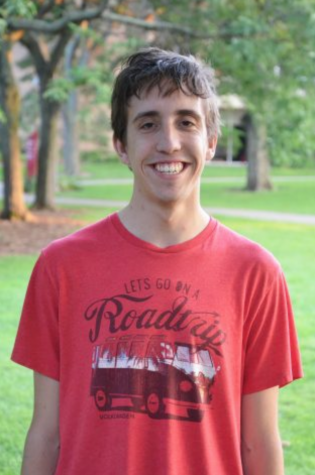 Brandon Schreur, Arts and Entertainment Editor
Brandon Schreur is the Arts and Entertainment editor this year. He's a junior majoring in writing and film studies. He's from Holland, Michigan, and...