Adele wins big at controversial 59th annual Grammy Awards
Whether or not  you typically agree with the popular award shows that air around this time of year — such as the Grammys, the Oscars or the Golden Globes — and their all-too-often controversial winners (for example: Meghan Trainor, who won best song in 2015, and went on to win best new artist over Courtney Barnett the following year), one thing can almost always be guaranteed: they'll put on an entertaining show in the process.
The annual Grammy awards were held this past Sunday night, honoring and tributing the past year in music and all its glory. Hosted by late night talk show host James Corden, the ceremony managed to draw in 26 million viewers (which is an impressive number for anything aired on television, the Golden Globes having pulled in 20 million).
Adele cleaned house once again by taking home many of the major awards, much like she did back in 2012 with the release of "21." Keeping with her number theme, Adele's newest album "25" won Album of the year and Best Pop Vocal Album. Her hit song "Hello" also wound up winning Song of the Year, Record of the Year and Best Pop Solo Performance.
However, Adele's winning of best album of the year was a controversial pick, as many people — including Adele herself — believed the award should be to Beyoncé for her album "Lemonade," which came out last spring. Adele's acceptance speech was dedicated to Beyoncé, as she said, "I can't possibly accept this award. I'm very humbled and gracious, but my life is Beyoncé." She went on the praise "Lemonade," ending by saying, "And the way that you make me and my friends feel, the way you make my black friends feel, is empowering, and you make them stand up for themselves. And I love you. I always have. And I always will."
Adele's speech has gained much attention in the past couple of days, having people questioning whether the Grammys have fallen into a similar situation as the Oscars did in 2015 with the #OscarSoWhite movement.
Other nominees for best album of the year included "Purpose" by Justin Bieber, "Views" by Drake and "A Sailor's Guide to Earth" by Sturgill Simpson.
On the lighter side of things, perhaps the most touching moment of the night came from Chance the Rapper. Making history for being the first independent artist to win a Grammy without releasing physical copies of his music (his album was released solely to streaming, making it the first mixtape to win three Grammys without the help of a label), Chance won three separate awards throughout the night for Best New Artist, Best Rap Album ("Coloring Book") and Best Rap Performance. His acceptance speech was dedicated and heartfelt, saying "Glory be to God. I claim this victory in the name of the Lord. I want to thank God for my mother and my father, who supported me since I was young … and I want to thank God for putting amazing people in my life."
Other notable winners of the night include Beyoncé for Best Music Video ("Formation"), Drake for Best Rap Song ("Hotline Bling") and Patton Oswalt for Best Comedy Album ("Patton Oswalt: Talking For Clapping").
Of course, no Grammy night would be complete without a series of live performances from the biggest pop musicians working today. Katy Perry gave a politically fueled presentation, singing her new song "Chained to the Rhythm" with Skip Marley on a stage that begins as a white picket fence — a symbol featured in her song — only to transform into what is eventually revealed as The United States Constitution. The best performances of the night came from Beyoncé and Chance the Rapper — Beyoncé who sang "Love Drought" and "Sandcastles" in a fantastical and imaginative rendition, and Chance who touched on elements of spirituality in his song "How Great."
The show also featured several tributes to various artist who passed away in the past year. Adele boldly restarted a George Michael tribute, insisting that she got it right in order to properly honor Michael. Bruno Mars also dressed and impersonated the pop icon Prince. And then the Grammys went full "Saturday Night Fever" in a disco-filled dedication to The Bee Gees, done by Demi Lovato, Andra Day, Tori Kelly and Little Big Town.
While the Grammys once again leaned towards more predictable and somewhat uninspired choices for their nominees and winners (of course, there's nothing wrong with Adele and her album "25," but the fact that even she thinks "Lemonade" deserved to win tells us something. And only one nomination for Bon Iver's "22, A Million"?), the show was certainly a sight to be seen. Twenty-One Pilots took their pants off upon acceptance of their award. Lady Gaga unpredictably began to crowd surf whilst in the middle of playing with Metallica. For many reasons — some of them controversial and some of them just for fun — the show was certainly a memorable one.
About the Writer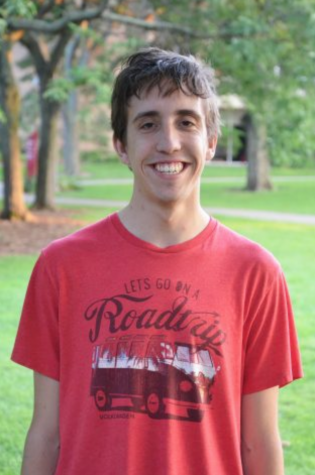 Brandon Schreur, Arts and Entertainment Editor
Brandon Schreur is the Arts and Entertainment editor this year. He's a junior majoring in writing and film studies. He's from Holland, Michigan, and...