"Life Without Sound" creates new waves for Cloud Nothings
Listeners and fans never really know what they're in for upon the release of a new Cloud Nothings album, EP, LP, experimental project or any other type of set they might put out. In the past, the band has worked with softer sounding and rather melancholy music, and at other times they take a completely different approach and will go so far as to become 90s grunge music.
"Life Without Sound," the band's latest album, once again hits its listeners with surprise after surprise. Playing with several different styles and genres and then combining them into one meticulously planned tracklist, Cloud Nothings has found a way to hybrid genres in an expansive and rewarding album.
"Life Without Sound" is Cloud Nothings' fifth solely-released album, released on January 27, following a joint collaboration project they did in 2015 with Wavves entitled "No Life for Me."
In a recent interview for the release of "Life Without Sound," Dylan Baldi — leader singer of the band — said, "Generally, it seems like my work has been about finding my place in the world. But there was a point in which I realized that you can be missing something important in your life, a part you didn't realize you were missing until it's there — hence the title. This record is like my version of new age music. It's supposed to be inspiring."
Indeed, "Life Without Sound" marks new ground for the band. Containing a steady mix of calm, slower-paced vibes that focus on serenity which eventually give way to faster and more chaotic notes in the latter half of the album, Baldi is able to pull off this method better than many others who have experimented with the same stylistic maneuver.
The album's chaotic rhythm echoes in Baldi's lyrics as well, as he starts with a grim mood and realistic view on life, only to eventually give way to introduce more fantastical ambiances. As the album progresses we see Baldi let loose more and more, simultaneously becoming decidedly less symbolic and more straightforward with his feelings. The album ends on an incredibly self-reflectional note entitled "Realize My Fate," in which Baldi sings, "I believe in something bigger / But what I can't articulate / I find it hard to realize my fate."  
Perhaps one of the reasons each one of Cloud Nothings' albums sound so distinct is because they constantly switch producers with each new album. "Life Without Sound" is the third record in a row with a different producer, this time being indie-rock engineer John Goodmanson. When asked about their latest experience under a new producer in order to create a new sound, Baldi said, "Goodmanson was maybe the most hands-on producer we've had in terms of changing the songs. He definitely has a way that he makes bands sound."
As for now, Cloud Nothings' creative approach seems to be working, seeing how they improve upon each release. "Life Without Sound," the highlight of the album being "Enter Entirely," is another solid entry for the band.
Cloud Nothings is coming to Calvin College, with opening band Moon Brothers, on Monday, February 6, in the CFAC. The show begins at 8 p.m. and tickets cost $10 with a student ID.
About the Writer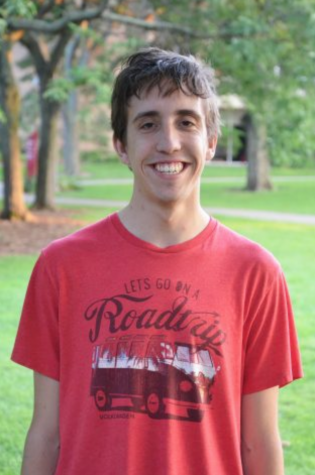 Brandon Schreur, Arts and Entertainment Editor
Brandon Schreur is the Arts and Entertainment editor this year. He's a junior majoring in writing and film studies. He's from Holland, Michigan, and...