Season four of BBC's "Sherlock" debuts to disappointing results
We've seen several different on-screen portrayals of Arthur Conan Doyle's infamous duo Sherlock Holmes and John Watson throughout the past few years. Robert Downey Jr. and Jude Law starred in a couple of generally well-received blockbuster films directed by Guy Ritchie; Jonny Lee Miller and Lucy Liu operate together in the CBS show "Elementary"; and even Ian McKellen has delivered a very different take on the character in the 2015 film "Mr. Holmes."
Yet none of these interpretations have gained the same momentum or fanbase as Benedict Cumberbatch and Martin Freeman have in the hit BBC series "Sherlock." Beginning its run in 2010 from creators Steven Moffat and Mark Gatiss (who also plays Mycroft Holmes in the show), "Sherlock" follows a high-functioning sociopath and a retired war doctor as they share an apartment and solve mysteries together in modern day London.
With "Sherlock" airing on BBC — making it a British series — the show's structure is set up different than most American television shows are. Each season contains only three episodes, but each episode is 90 minutes in length, creating a sense of three shorter films rather than a large number of disconnected episodes.
Season three of "Sherlock" debuted to mixed reviews in January of 2014, a disappointing notion seeing as the first two seasons are highly praised amongst critics and fans. After a long hiatus (apart from the single episode Christmas special entitled "The Abominable Bride," which aired in 2016), fans are finally able to return to 221B Baker Street to see how season four will fare.
This time around, season four of "Sherlock" gives us mysteries and clues such as smashed statue heads of former Prime Minister Margaret Thatcher, a serial killer disguised as a celebrity living in England and a highly elaborate prison holding one of the world's most dangerous criminals. And, much like season three, we're met with mixed and often frustrating results in a season that is unable to live up to the first two.
The season starts off on a rather unflattering note with "The Six Thatchers." While the re-introduction to the show's beloved characters offers a welcome sight, "The Six Thatchers" becomes an overly convoluted mess which can never firmly settle on a single storyline. With a forgettable and unconvincing climax, "The Six Thatchers" marks one of the weakest entries in "Sherlock" to date.
While "The Lying Detective" — the second episode of the season — is an improvement over "The Six Thatchers," it also emphasizes an underwhelming and rather dull mystery for the heroes to solve. Despite the brilliant premise of a serial killer who poses himself as a powerful businessman named Culverton Smith (Toby Jones) — a man who is remarkably good at hiding his alter-ego — the episode ultimately amounts to nothing by its end.
"The Final Problem," the third and final episode of the season, has created the most controversy for "Sherlock" fans. While it stands out as being more exciting than the rest of the season has been thus far, the episode also finds itself going way too over-the-top in a highly elaborate and convoluted plot involving a jail break that at times feels like a "Saw" movie. While "The Final Problem" boasts some interesting ideas and a decently satisfying ending montage to the season, the execution is done poorly.
Season 4 isn't necessarily as bad as it is disappointing. The show has certainly taken a few steps down, but it doesn't yet reach a point of being unwatchable. Benedict Cumberbatch and Martin Freeman once once again fit back into their characters nicely and deliver entertaining portrayals of the beloved characters. Other returning characters — such as Mycroft, Mrs. Hudson (Una Stubbs) and DI Lestrade (Rupert Graves) — add warm presences during the season's slow moments.
Yet much of the momentum is gone and the writers have seemed to lost sight with what made the show popular to begin with. Such things as over-explaining Sherlock's thought process, constantly hinting at yet never fully utilizing a fan-favorite character from season two and repeatedly pitting Sherlock against lackluster villains bring "Sherlock" down to its knees. It seems the new season of "Sherlock" once again finds itself reserved to a rather elementary level.
About the Writer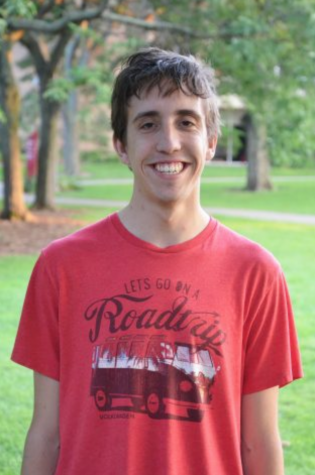 Brandon Schreur, Arts and Entertainment Editor
Brandon Schreur is the Arts and Entertainment editor this year. He's a junior majoring in writing and film studies. He's from Holland, Michigan, and...