"La La Land" movie review
Damien Chazelle made a name for himself in 2014 upon the release of his massively successful film "Whiplash." His clear love for music and appreciation for those willing to follow their dreams bled through in a sharp and well-crafted movie. Two years later Chazelle is back, this time taking on an old-timey, classical-feeling musical "La La Land," which once again tells a story of aspirations in a musical landscape.
"La La Land" opens with an impressive one-shot musical number on a Los Angeles freeway, in which a crowd of angry and late traffic dwellers bust out of their cars to perform a highly elaborate song and dance routine. This energetic and remarkably-built scene alone sets a clever and melodic tone of what's to come.
It's then that we meet Mia. Somewhat of a child prodigy, Mia came to Los Angeles to become an actress. However, Mia's dreams are put on hold after being tempered by failed audition after failed audition. Now, instead of working in a professional Hollywood studio, she works as a barista right next door to one.
Sebastian, too, has come to Los Angeles with high hopes to make it big. With an intense passion for jazz music, he dreams of some day opening up his own jazz club. Yet it's safe to say his career hasn't really taken off yet either as he lives in a single, rundown apartment, taking whatever gig he can land — from joining '80s cover bands to humiliatingly playing Jingle Bells down at the local tapas restaurant.
Mia and Sebastian have run into each other on several occasions. And while the two of them are determined not to fall in love — their interactions typically include blowing each other off or doing their best to embarrass one another — that notion doesn't last too long, as even they can't hold on to their egos forever. The two form a romantic relationship, which is then put to the test in a city full of dreaming, disappointments and false idols.
It's been awhile since a film like "La La Land" has come out — seeing how musicals haven't been all that popular of a genre in quite some time. Of course, there's been a select few throughout the past couple of years — such as "Les Miserables" and Anna Kendrick's "The Last Five Years." Yet "La La Land" stands out from the rest, differing from other modern musicals in tone and style. The film pays homage to the "Singin' in the Rain" era of musicals, creating a wild energy and exquisite set design that captures something special.
In many ways, "La La Land" truly is a love letter to the Golden Age of Hollywood. While set in modern day, everything about "La La Land" feels like something from the 1960s. Constantly poking fun at the LA lifestyle, there are many references to this time period scattered cleverly throughout the film.
And yet, in many other ways, "La La Land" is also a love letter to those who dream. This film is made for those who have ever had an intense passion for anything, and are willing to do whatever it takes to achieve it — and also the things one might have to give up.
Ryan Gosling goes full-on Gene Kelly in "La La Land" — he sings, tap dances and plays the piano in a charming and energetic fashion. Emma Stone also boasts an immensely impressive singing voice, with a fantastic performance to go along with it. The two have outstanding chemistry, and Damien Chazelle knows exactly how to handle their relationship and capture its complexity.
"La La Land" boasts one of the most impressive original soundtracks of the year, the song 'Audition' seeming to be a fine candidate to win Best Original Song at the Oscars this year. It's a passionate film, one that creates a beautiful and captivating world. Sadly, we can't leave reality and live in "La La Land" forever — no matter how badly we, Sebastian or Mia may want to.
But maybe that's just one of the things Chazelle wanted the audience to leave with.
About the Writer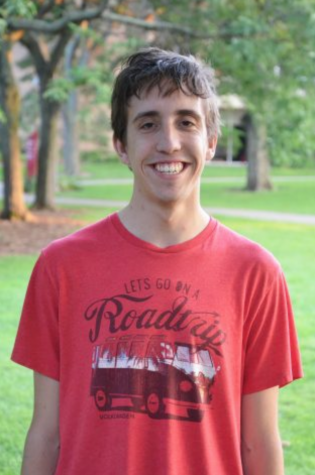 Brandon Schreur, Arts and Entertainment Editor
Brandon Schreur is the Arts and Entertainment editor this year. He's a junior majoring in writing and film studies. He's from Holland, Michigan, and...