Looking at local churches: Woodlawn CRC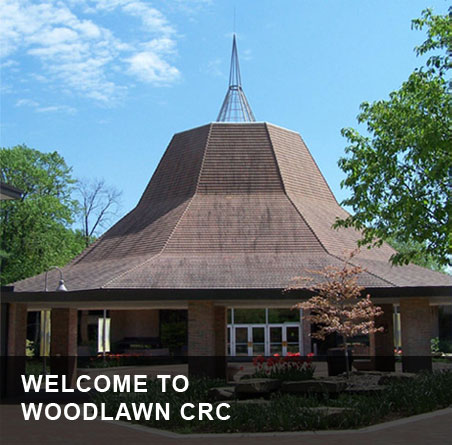 If there were a competition for being the most accessible church for Calvin students, Woodlawn CRC would have a distinct advantage. Woodlawn meets in the Calvin Chapel for its Sunday services at 9:30 a.m. and 5 p.m. each week and is intentional about being involved with the Calvin community.
According to the church website, "Although we are not under the college's supervision, we are located right on campus, so we definitely see ourselves as partners with Calvin. That means we try to build relationships with students, with faculty and with staff."
One student who attends is sophomore Jessi Vos, who has been going to Woodlawn for about a year. She said that there is a distinct Calvin presence at the church: "A few Calvin students attend, and several professors attend. It is fun to be able to chat with them after the service."
In addition to attending weekly services, Vos said Calvin students can be involved in a unique ministry "where college students can be 'adopted' by a family, which includes a meal with them once a month."
This ministry is one of many ways the Woodlawn community strives to be inclusive. The church website says, "We welcome and embrace people of different gifts, races, tongues and traditions as members of our congregations. We want to reflect the church of Revelation 7:9–10, a church in which 'there were so many people that no one could count them.'"
Woodlawn also encourages fellowship through their many programs. One ministry, Dine with Nine, allows groups of nine church members to engage in intentional fellowship throughout the year. Other programs, such as the ping pong ministry, Stichers and Friends group and book clubs also contribute to Woodlawn's community.  
Many of Woodlawn's ministries occur at the Ministry Center, located just across the street from Calvin's campus. The church website says that this center, which was completed in 2006, hosts "ESL classes, a 'Friendship' ministry for the developmentally disabled … and Sudanese Christian services held every Sunday afternoon."
Vos described the services at Woodlawn as "very liturgical, including traditional hymns and choral anthems with the organ." Services often feature choir or orchestra-led music, and emphasize reverence and consistency. Regarding the weekly sermon, Vos said "It usually reminds me to examine my own life as I go through my day-to-day experiences."
Another unique feature of Woodlawn is its focus on creation care. It has a creation care committee which assesses and makes recommendations about Woodlawn's use of resources, as well as educational and participative activities, which involve annual clean-up and recycling events. Woodlawn also partners with Calvin College in the Plaster Creek Stewards Project by providing resources and volunteers to help restore the Plaster Creek Watershed to good health.
Through its emphasis on fellowship, liturgical tradition and interest in creation care, Woodlawn provides a unique and welcoming community for a variety of believers. Overall, Vos encourages other Calvin students to join her at Woodlawn: "I would recommend Woodlawn CRC to any Calvin students who love traditional worship with hymns and organ. It is also incredibly convenient for people like me who do not have vehicles."
About the Contributor
Kathryn Mae Post, On-Call Writer
Kathryn Mae is a senior English writing and political science major from New Jersey known for her love of scented candles, social justice and musical theatre....