Listeners chew on new Royal Teeth EP "Amateurs"
Most people haven't heard of the group Royal Teeth. With a name that sounds more like some sort of frightening procedure done at the dentist than a pop band, Royal Teeth typically doesn't come up when discussing music icons of this era. Having a somewhat slow startup hasn't helped their claim to fame either — the band formed in 2010 but had not released a studio album until 2013. "Glow" is their only full album thus far.
Royal Teeth has, however, created an atmosphere of catchy music and clever lyrics that offer a new, welcome voice to the indie pop community. And after having gained some more traction from their 2016 tour that's promoting the new EP "Amateurs" — which included a concert in Grand Rapids at The Pyramid Scheme earlier this month — Royal Teeth has begun to build a solid fanbase.
Released on November 18, "Amateurs" comes packed with six unique songs, making a well-rounded EP that gives listeners who haven't heard Royal Teeth's other work a taste of what they are missing. Helmed by lead singers Nora Patterson and Gary Larsen, a duo which will often take turns leading songs by choosing the ones that feel most personal to them, "Amateurs" speaks of youth, fame and love in an upbeat and fun manner, finding the right balance of meaningful and often unconventional lyrics while still never taking themselves too seriously.
The EP leads off with "Kids Conspire," a quick-paced and entertaining song that's dedicated to childhood innocence. Lead by Patterson, the song is also one of Royal Teeth's catchiest tracks to date. "Amateurs" also includes an extended version of "Kids Conspire," a 4.5 minute long version that expands upon the track's in-depth look on what it means to grow up.
Larsen and Patterson's voices combine for the first time on the EP's third song "Paper Cut."
In the past, some of Royal Teeth's best work has been when the two join together in one song, and it has never sounded better than it does in "Paper Cut."
The song "Amateurs," where the EP finds its title, is somewhat of a change of pace from the previous entries, creating a rather self-reflective piece for Royal Teeth. "I have dreams, and they are gigantic," sings Larsen. "Time won't slow down, there's never enough, so take what you can and do what you love."
Other songs "Is It Just Me" and "Villain" mark softer submissions, something Royal Teeth also knows how to do exceeding well, as their light-hearted and cheerful style can serve well in various mediums.
The album ends with "Only You," a rather expressive and slightly moody track. With the closing lines "Cut 'em loose and cut your losses," Royal Teeth has successfully taken themes from other genres, such as punk rock and grunge music, and transformed them to fit into their more laid-back jams.
While Royal Teeth boasts a care-free and breezy style with their indie rock/pop vibe, many of their lyrics often touch on deeper meanings of hopes and regrets. They long for a simpler time of childhood, careful to re-create it in such a delightful manner. "Amateurs" serves as a blissful reminder as such, in an EP that's hopefully indicative of Royal Teeth's future work.
About the Contributor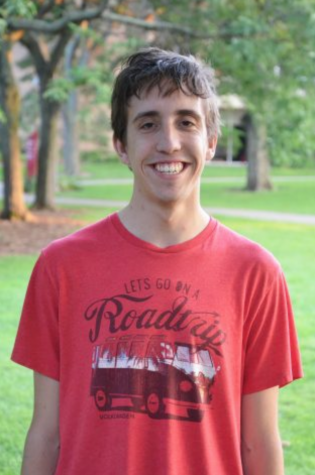 Brandon Schreur, Arts and Entertainment Editor
Brandon Schreur is the Arts and Entertainment editor this year. He's a junior majoring in writing and film studies. He's from Holland, Michigan, and...