Denis Villenueve deciphers alien language in "Arrival"
Denis Villeneuve deciphers alien language in "Arrival"
Brandon Schreur
A & E Editor
Throughout the years, we've seen countless sci-fi films depicting deadly and dangerous alien life forms, intergalactic battles and futurist action sequences. From "Independence Day" (I'm choosing to forget "Independence Day: Resurgence") to "District 9," many films in the genre seem to cover similar ground as the ones that came before it. There have not, however, been many films made about the study of alien language on a linguistic level upon an an extraterrestrial encounter. That is, until now.
From acclaimed director Denis Villeneuve, creator of "Prisoners," "Sicario" and the upcoming "Blade Runner" sequel, "Arrival" is his newest film. It gives an in-depth look at an alien invasion on a rather personal and intimate scale — highlighting the human reactions, emotions and interactions that people might be feeling should such an event take place. Starring Amy Adams, Jeremy Renner and Forest Whitaker, "Arrival" is a refreshing take on the sci-fi genre that has also positioned itself for massive Oscar consideration this year.
Here's what we know: Around the world, twelve alien ships have landed in twelve seemingly random locations. At the moment, they don't appear to be hostile — yet we have no idea why they have come to earth. Every eighteen hours a hatch to each ship opens, allowing the humans to enter and attempt to communicate with the life forms that inhabit them.
That proves, however, to be a rather difficult task given the aliens' inability to speak English (or any language, for that matter). So, the United States Military calls in Dr. Louise Banks (Adams), a linguistic professor who has worked with the government in the past, to explore the ship that has landed in Montana. Once there, Louise meets Ian Donnelly (Renner), a biologist who has been brought onboard for research purposes. After briefing and medical exams, Ian and Louise are sent inside the ship under the guidance of Colonel Weber (Whitaker).
As Louise attempts to learn how to communicate with the aliens and discover the reason they have visited earth, she must do so quickly, as several other countries in which the alien ships landed have begun to deem them as a threat — and are prepared to treat them as such. Trying to crack the code before it's too late, Louise is introduced to a world far beyond her understanding.
While "Arrival" moves at a slower pace than most modern movie-goers may be accustomed to, Villeneuve uses this method of storytelling to deliver an immensely satisfying and engaging sci-fi film. Breathing new life into the genre with its pure originality, this is a film that demands multiple re-watches — something that most audience members will be happy to grant it.
Amy Adams is nothing short of brilliant in the role of Louise Banks. While Adams has built quite the resume over the past decade ("The Master," "American Hustle"), "Arrival" stands out as one of the best roles of her career thus far. Her character goes in emotional directions that most audiences won't be expecting, adding extra layers to her character and making her more interesting.
Jeremy Renner, breaking away from his Hawkeye fame, also delivers a great performance in the film. The same can be said for Forest Whitaker, an actor who has had a resurgence in his career the past couple of years, taking on an important and decisive role.
"Arrival" is an important movie for many, many reasons — it depicts humanity both at its worst and at its best while giving a realistic glimpse at how the world might react in this type of situation. It's also a gorgeous movie with breathtaking cinematography. Denis Villeneuve is one of the most promising directors of this generation. His films have an ability to reach certain heights that other directors can't match. "Arrival" marks his best work yet.
About the Writer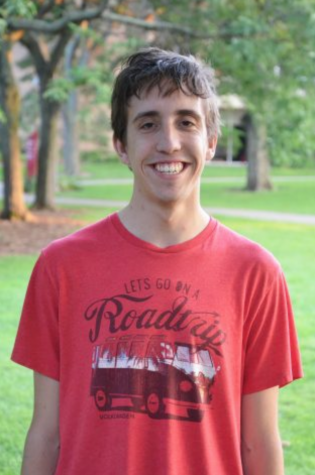 Brandon Schreur, Arts and Entertainment Editor
Brandon Schreur is the Arts and Entertainment editor this year. He's a junior majoring in writing and film studies. He's from Holland, Michigan, and...