Adam Young recreates history through musical scores
"Not long ago, I found myself reminiscing the last half decade of my career. I recalled what it was like writing my first songs, recording my first album and touring in a 15-passenger van. […] It was then that I stumbled upon a world of music that did something to me no other type of music had ever done before — it inspired me."
Singer, songwriter and composer Adam Young, lead singer of Owl City, gave this quote last February upon the start of his year-long project, titled "Adam Young Scores", which has been gaining more and more attention since its inception. On the first day of every month, Young releases an experimental album score, completely devoid of any lyrics or vocals, for free on the internet (ayoungscores.com). Inspired by great film composers of this generation, such as James Horner, Alan Silvestri and John Williams, each of Young's musical incarnations tells an emotional and passionate story based around a significant event in human history of Young's choosing.
Imagining himself in different time periods and various settings in order to capture the momentum of each moment, Young has depicted such events as the Titanic, Apollo 11, Omaha Beach, the final march of the Civil War and Project Excelsior. His melodies switch depending on the mood —  sometimes taking on an uplifting and catchy beat to capture joyous or miraculous events, other times being somber and dramatic in order to portray certain catastrophes and devastations.
Young's newest project was released on the first of November, and is entitled "Shrine of Democracy." Depicting the carving of Mount Rushmore by Gutzon Borglum from 1927 to 1941 in seven separate and quick-paced tracks, Young captures the historic event and the many emotions that came with it in a way never done before.
Along with the release of every album comes extraordinary album visuals to accompany it, all of which are created by illustrator James R. Eads. Young has also recently created a contest for his fans, challenging them to tap into their own inner creativity and produce a 5-10 minute film based off of an interpretation of one of his scores.
While Owl City became a huge success in 2009 with its smash hit album "Ocean Eyes," Young started this project to break away from the record labels and top 40 hits that the band has become known for. Still performing as Owl City simultaneously, Young's scores give him the opportunity to express himself in an ambitious way he couldn't have done otherwise.
Young writes, "Stories are infinite. They offer us the ability to retell them according to the way we imagine them. Thus, I want to create musical narratives that aid in the telling of stories that move Adam Young, according to his imagination. And I want to share them with you."
Blazing his own trail by re-writing history through musical notes, Young's scores have capitalized on a unique means of storytelling.
About the Writer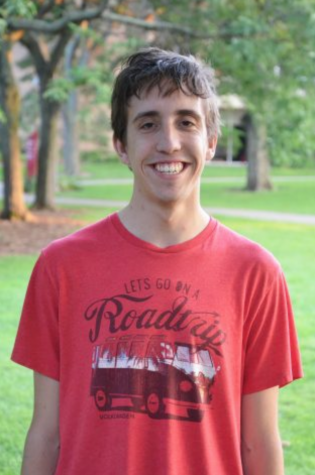 Brandon Schreur, Arts and Entertainment Editor
Brandon Schreur is the Arts and Entertainment editor this year. He's a junior majoring in writing and film studies. He's from Holland, Michigan, and...