Men's hockey off to blazing start
The Calvin hockey team is ranked number one in the nation by myhockeyrankings.com behind an undefeated 9-0 record. The first third of the season has been filled with double-digit victories and multiple shutouts.
This past weekend the Knights faced their toughest test of the season: three games in three days, two of them being against top ranked teams: number 11 University of Central Florida and number 15 Colorado State University.
Since Chimes has yet to cover hockey this season, here is a brief history leading up to last Thursday. The first two weeks of the season included five commanding victories where the Knights outscored their opponents 47-9. The last game in that batch was a 7-0 away game shutout of Central Michigan University on Oct. 21.
The next day on Oct. 22, Calvin hosted Central Michigan at the Eagles Ice Center. The defense remained stout and the result was not too different from the night before. A 4-0 victory had the Knights entering their Thursday, Friday and Saturday matchups with undefeated swagger.
"I think we've played well; we have beaten the teams we were supposed to beat and I'm pretty happy with our recent success," said senior defenseman Austin Kath.
Kath, also a team captain, is part of a defense that has shutout four of their last five opponents. After the shutout of Central Michigan, Calvin started their three game stretch with a home showdown against Central Florida on October 27. The final score was 3-1, but was still a solid win against a highly ranked opponent.
Kath, sophomore goalie Alex Gross and the rest of the team then shutout out opponents (Colorado State and South Florida) 8-0 on consecutive nights. Kath attributes the team's success on defense to team cohesion as well as a goalie who plays lights out.
"It's definitely a team effort back there," Kath said. "We can trust in each other that if someone gets beat by their man, we will have someone else come to help out."
Statistics can often tell the story of success or failure at most points throughout the season. With a third of their games played, Calvin's individual statistics preach a narrative of teamwork. There are five players with 15-plus points on the season, and three players have assists in the double digits.
Senior forward Cameron Bell (also a team captain) leads Calvin as well as all of the M3-Michigan College Hockey Conference West in scoring with 23 points. Right behind Cameron is senior forward Ryan Racanelli with 19 points.
Statistics aside, Kath emphasized on trust in the rink, and team building off of it.
"We've created lots of team chemistry on and off the ice," said Kath. "Getting to know each other on a personal level helps our performance each game. We've developed that brotherhood mentality, which is crucial for the teams that want to pursue a National Championship."
Undefeated and number one in the nation, Calvin's National Championship aspirations certainly have merit. As first-year student defenseman Nick Hirst said, however, Calvin has yet to face the kind of competition that teams do on the road to a championship.
"Even though we are undefeated on the season so far, in a way, it is sort of hard to judge our performance considering we haven't yet played any teams our caliber," said Hirst.
This is hardly a knock on the teams Calvin has played, rather an illumination of the talent the Knights have displayed thus far.
This weekend Calvin will play two home games on back-to-back days. On Friday they will take on Purdue University at 6 p.m. and on Saturday play Adrian College's Gold team at 8 p.m.
Kath said that the games will be thrilling and should garner a lot of fan interest:
"Both games will be fast-paced, physical and exciting hockey. Adrian always plays us tough, so we need our fans to be loud and rock the barn."
Bell shared a similar hope and optimism, fueled by the team's performance so far.
"We have certainly been playing well thus far, but our competition is only going to get tougher as we approach some big rival and league games," said Bell. "If we keep playing the way we are, I think we can do big things this year.
About the Writer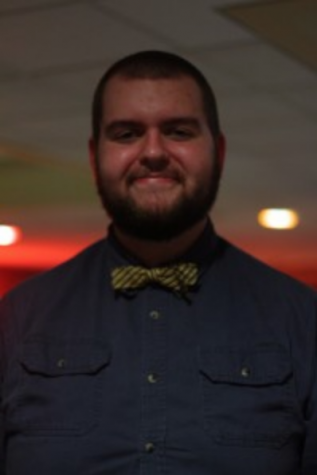 Mark Peless, Online Editor
Mark is the online editor this year, which means that he has control of everything that goes on the Internet. Last year he was the sports editor, so his...