Technology takes over in "Black Mirror"
A futuristic device that gives people the ability to scroll through every memory they've ever lived. A dystopian world where people are either hypnotically glued to their phones or have gone insanely murderous. An online cyber attack that forces the Prime Minister to commit absurdly erotic acts with a pig on live television. These are just some of the things that the first two seasons of "Black Mirror" had in store for its audience. After having to wait nearly three years, fans finally get to see more.
First launching in 2011, the Netflix exclusive show "Black Mirror" is a collection of stand-alone episodes that center around the idea of technology and the human condition. Each episode is composed of new directors, actors/characters and stories, meaning the viewer can watch them in whatever order they please; the shows are connected only by one common thread of messages: technology leaps forward while man simultaneously reverts back to primal instincts. The first two seasons of "Black Mirror" received massive praise for its unpredictable twists, futuristic and unsettling visions and ability to completely shock its audience. The new season promises to be more of the same.
Season three of "Black Mirror" was released on October 21, giving fans six new episodes, the highest number that any season of  "Black Mirror" has ever had. Each episode ranges 45–60 minutes in length, and they all contain new and disturbing stories, ideas and themes that are sure to floor viewers from start to finish.
The season starts out on somewhat of a weak note with the episode "Nosedive." Taking place in an advanced world where everyone thrives off of evaluating and rating other people on a five point scale through a social media app, a person's worth and place in society is determined by the average score they receive. While the idea of "Nosedive" is an intriguing one — and also features a rather well-acted performance from Bryce Dallas Howard ("Jurassic World") — the episode faults in being too over-explanatory and unsubtle in its message.
Returning back to proper "Black Mirror" form is "Playtest," the second episode in which an American tourist, played by Wyatt Russell ("Everybody Wants Some!!"), is traveling through Europe when he's given the rare opportunity to test a revolutionary new virtual reality horror game — only to have it consume his entire life. Despite having a somewhat predictable ending, the episode is intensely directed by Dan Trachtenberg ("10 Cloverfield Lane"), who captures a claustrophobic and breathtakingly tense feeling from beginning to end.
Finding its true stride in season three is "Shut Up and Dance," one of the most intense episodes of "Black Mirror" memory. Kenny, a teenager, finds himself at the mercy of an unknown texter threatening to leak certain secrets that Kenny has been hiding unless he commits a series of various criminal acts. An episode that deals with the dangers of the internet and humanity's ambitions to hide its errors, "Shut Up and Dance" is full of shocking surprises and twists.
"San Junipero," the fourth episode in season three, is also one of the best episodes that "Black Mirror" has released to date. Despite appearing as a small town full of partying teenagers, San Junipero is actually a place for the elderly to upload their consciousness after they die. Telling of two individuals named Yorkie and Kelly who form a relationship in San Junipero, this episode successfully combines elements of futuristic technology with a simple, yet effective, love story. With intriguing set design, a remarkable soundtrack and an ending that is somewhat lighter than most episodes, "San Junipero" sets the bar for future installations of "Black Mirror."
Unable to live up to the hype that "San Junipero" created is "Men Against Fire," one of the weaker episodes this season. Portraying armed military soldiers who must protect a fearful village from a threat known only as 'roaches,' "Men Against Fire" has a few interesting ideas; however, most people will be able to see the big twist coming from a mile away. While the episode does feature fine performances from Malachi Kirby and Michael Kelly ("House of Cards"), its slow pace and narrative clichés will leave most viewers wanting more.
The season goes out on a high note with its finale "Hated in the Nation." The longest episode "Black Mirror" has ever launched at 89 minutes, "Hated in the Nation" follows two investigators desperately trying to stop a tech-savvy hacker from committing a series of connected murders on a daily basis. His victims are decided by popularity; using the hashtag '#Death to _____,' on Twitter, whichever celebrity or person is trending by the end of each day is the one he will kill. Taking the show in a direction that it hasn't gone before, "Hated in the Nation" has enough content to warrant its own standalone film.
"Black Mirror" isn't a show that's meant to be binge-watched, as most people have become accustomed to doing with the rise of Netflix and Hulu. Each episode demands time to contemplate, process and recover from whatever horrible fate the characters typically find themselves in by the end. As with every installment of "Black Mirror," this new season has its ups and downs. "San Junipero" and "Hated in the Nation" may be some of the best content "Black Mirror" has put out to date. "Nosedive" and "Men Against Fire," however, mark rather forgettable moments. Yet, the show always manages to be both intriguing and horrifying, and season three is no exception. At the very least, "Black Mirror" might make you think twice about upgrading your phone the next time the new iOS is released.
About the Writer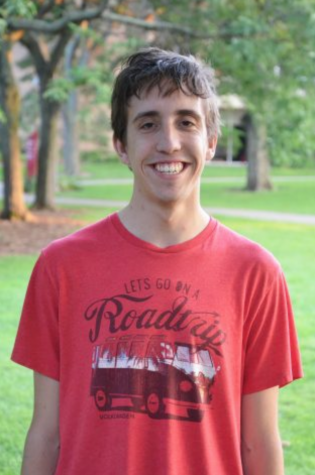 Brandon Schreur, Arts and Entertainment Editor
Brandon Schreur is the Arts and Entertainment editor this year. He's a junior majoring in writing and film studies. He's from Holland, Michigan, and...