Book offers revolutionary take on musical
In this turbulent political year, it's a Founding Father who gets the best press. "Hamilton," the musical juggernaut about America's first Treasury Secretary, has received praise from Broadway to the White House. With popularity comes merchandise: a chart-topping cast album, countless t-shirt designs and over 5,000 fan-created Etsy listings. And, as of this summer, a book: "Hamilton: The Revolution."
Like so many other fans, I snapped it right up.
Of course, I flirted with it in the bookstore first. I didn't buy it the first time I saw it. Beautiful, interesting and intriguing as it was, "Hamilton: The Revolution" required three greenbacked Hamiltons of my own. But, two weeks later — encouraged by a recent paycheck — I bid those bills goodbye and curled up on the couch with my new purchase.
According to the book's sales, my experience is not unique. Far from it. As a miniature of the show's summertime Tony dominance, the book appeared on multiple bestseller lists long after its release and still tops sales in Amazon's Broadway & Musicals category.
While hosting  "Saturday Night Live" two weeks ago, "Hamilton" creator and star Lin-Manuel Miranda self-deprecatingly joked, "My show … fortunately, is one of the biggest hits ever on Broadway, so that means most of you watching at home have no idea who I am."
But that is, day by day, becoming less and less true. You might have come across "Hamilton's America" on PBS back in October, or you might hear Miranda's music in Disney's "Moana" this November. And, sooner or later, you might overhear the cast album booming from your suitemate's room and (what's worse) overhear her less-than-successful attempts at rapping like Lafayette. If you haven't heard of the show yet, you will soon.
And when the musical gains new fans, by extension, the book gains new buyers. As chorus members might sing at the end of "Hamilton"'s act I: "Man, this [musical] is non-stop."
But is "Hamilton" worth the hype? Reviewer after reviewer has argued that the musical, however over-lauded, still deserves its enormous popularity. Many – in fact, most – of those buying this book can't debate using actual experience: due to the show's skyrocketing ticket prices, they've only listened to its songs and watched-and-rewatched YouTube clips. "Hamilton: the Revolution" is their chance, however limited, to gauge the show's success for themselves. For many, this is the most physical experience they will ever have with this material.
Thankfully, "Hamilton: the Revolution"'s outside guarantees a pleasant first meeting: it is, quite simply, gorgeous. From the tip of its gold-lettered spine, to the edges of mock-vintage pages, to the shiny replica of the famous man-on-a-star show logo, it fits into the show's mythology.
"Period from the neck down, modern from the neck up," "Hamilton"'s costume designer says of his vision for the hip-hop musical. "I didn't want Chris [Jackson] to be in a powdered wig as Washington. I wanted to see him for who he was." In that tradition, "Hamilton: the Revolution" is a historically-inspired effort with a distinctly modern flair.
The bulk of the book is "Hamilton"'s libretto, or script. Since the narrative is generally sung and rapped, most of the libretto is lyrics, not lines. High-quality pictures of the production accompany each song, including two-page spreads of the combatants in "Cabinet Rap Battle #1" and of the dancers in "Helpless."    
Alongside these features rests the book's main attraction — annotations by Miranda on acting, writing and developing the phenomenon. These gems of historical or humorous insight are best read while streaming the cast album; though, I'll admit, you'll need to rewind a few chords while you laugh. (It's hard not to smile when Miranda describes his writing process as "pooping around Twitter" until he comes up with an idea.) Other times, his notes are tender musings on the intersection of life and art. One particularly poignant note rests alongside "Best of Wives and Best of Women," Hamilton's final scene with his wife before his fatal duel at Weehawken (sorry to spoil the history books): "In the musical of my life after I'm long gone, my wife Vanessa is going to be the one who steps forward as the hero … this show simply doesn't exist without Vanessa. It's a love letter to her. … I wept the whole time I wrote this scene."
But Miranda isn't the only writer with a strong presence in this book. Journalist and former Pulitzer jurist Jeremy McCarter contributes thirty-two engaging essays, each with its own mock-historical title, to "Hamilton: The Revolution." The essays brim with quotable interviews and vivid descriptions, and, though I initially bought the book for Miranda's annotations, I found McCarter's work to be a delightful surprise. "On Phillipa Soo and the Trouble with Goodness," for example, explains the difficulty of creating and casting the character of Eliza Hamilton, a remarkable combination of bravery and kindness.
The remainder of the book functions as a sort of scrapbook for "Hamilton"'s development: pages from Miranda's songwriting notebooks, Founding Father–penned love poems, fabric swatches from Paul Tazewell's Tony-winning costumes, even the lyrics of a cut Cabinet Rap Battle on slavery.
For non-fans, this might all seem a little self-important; this book is just an attempt to bleed a massive moneymaker for a few more dollars. But "Hamilton: the Revolution" doesn't read like a cash grab. It's thoughtful, informative and just plain fun, even if you've already read hordes of online article or sung along to the cast album hundreds of times. For fans and newcomers alike, this book is well-worth the price tag — and several re-readings.
About the Writer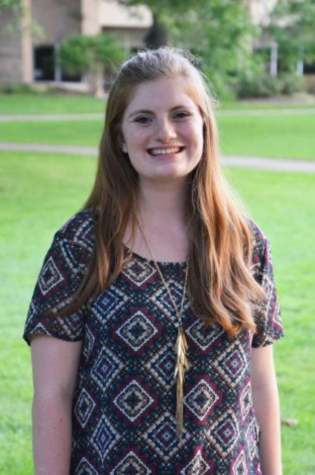 Courtney Zonnefeld, Campus News Editor
Courtney Zonnefeld is a co-campus editor for the 2016 year, having previously written for that same section. She is a junior writing major from Des Moines,...