Kanye West came to Grand Rapids, and it was lit
There was a brief moment during the Kanye West concert this past Tuesday, after the lights had gone out and the screams had died down, where the audience all wondered one similar question: Could this really be happening?
It was. As the music began to play, the reality sank in, and Kanye West appeared on stage to a symphony of applause and cheers. It wasn't just any stage. In true Kanye West fashion, his platform began to float above and on top of the mosh-pit that had gathered on the floor of the Van Andel Arena, creating a fully functional "flying" stage.
The concert was held on September 27 in downtown Grand Rapids to a nearly sold-out crowd, as part of West's newest show, "The Saint Pablo Tour." Featuring a setlist promoting his album, "The Life of Pablo," which was released earlier this year, West performed to an energetic and passionate crowd of die-hard fans and casual listeners alike.
Easily being one of the more daring and introspective stage designs he has taken on, Kanye, hooked to a bungee cord, hovered on top of his onlookers for the entirety of the show. Complete with a vast amount of tilting and floating lights and lasers, it provided an extraordinary experience.
"The Saint Pablo Tour" featured all eighteen original songs from "The Life of Pablo." His newest beats mix gospel and choir music with his upbeat raps and unpredictable sounds, creating a pure sense of raw vulnerability. Declaring his own struggles in a self-proclaimed scripture-like fashion, the crowd energetically ate it up. Which, with Kanye being one to embrace his own ego, reflected in West's on-stage charisma and audience interaction.  
The concert also featured a number of hits from West's past work, including "All of the Lights," "Runaway" and "Heartless," all of which were met with an uproar from fans.
There's nothing quite like seeing Kanye West come down off of his fashioned throne, with a range of flashing and melodic lights illuminating him, to the outro of "Ultralight Beam," the opening track of "The Life of Pablo" but the closing song for the evening. As the audience sang along with the prerecorded gospel choir, Kanye left the auditorium. There was no encore. He didn't need one. Knowing how to work a crowd and present himself in a confident and fanatic manner, Kanye had given his fans a once-in-a-lifetime event. That night, everyone in the Van Andel Arena witnessed something special.
About the Contributor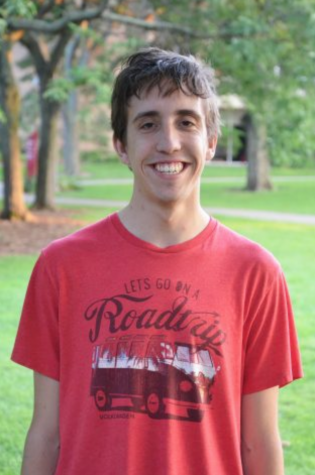 Brandon Schreur, Arts and Entertainment Editor
Brandon Schreur is the Arts and Entertainment editor this year. He's a junior majoring in writing and film studies. He's from Holland, Michigan, and...